Mom claims God kept her son safe after he fell into a gorilla enclosure at the Cincinnati Zoo.
Michelle Gregg, the mother of the unattended four-year-old who managed to crawl through a series of barriers at the Gorilla World enclosure before falling an estimated 10 to 12 feet into the moat surrounding the habitat denies she did anything wrong.
As a result of the boy slipping away from his mother and entering the enclosure a 17-year-old male Western Lowland Gorilla named Harambe was shot dead by zoo staff, who feared for the boy's life.
In a Facebook post Gregg refused to take responsibility for her negligence as a parent, dismissing the incident by saying "accidents happen." Instead of taking responsibility for her failure to adequately supervise her child, Gregg invoked God, declaring:
God protected my child until the authorities were able to get to him.
The following is the full text of Gregg's now-deleted Facebook post: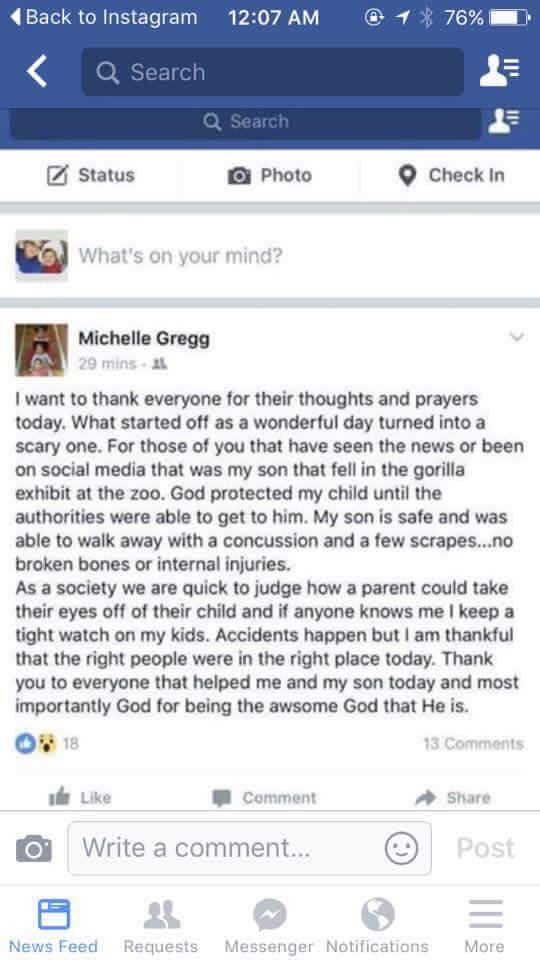 I want to thank everyone for their thoughts and prayers today. What started off as a wonderful day turned into a scary one. For those of you that have seen the news or been on social media that was my son that fell in the gorilla exhibit at the zoo. God protected my child until the authorities were able to get to him. My son is safe and was able to walk away with a concussion and a few scrapes… no broken bones or internal injuries.

As a society we are quick to judge how a parent could take their eyes off of their child and if anyone knows me I keep a tight watch on my kids. Accidents happen but I am thankful that the right people were in the right place today. Thank you to everyone that helped me and my son today and most importantly God for being the awsome [sic] God that He is.
In her post Gregg refuses to take responsibility for any role her negligence played in this tragic episode, and perhaps even more stunning, expresses no remorse for the death of Harambe.
In short, Gregg's post is callous, self-serving, and lacking any empathy or appreciation for Harambe and the tragic loss his death represents.
Time reports many animal rights activists on social media have criticized Gregg in the wake of the gorilla's death, arguing that the she should have prevented her son from falling into the enclosure.
A petition at chage.org seeking "Justice for Harambe" is asking that Gregg be held responsible for her part in the tragic episode. The petition has received over 150,000 signatures, and reads, in part:
We the undersigned actively encourage an investigation of the child's home environment in the interests of protecting the child and his siblings from further incidents of parental negligence that may result in serious bodily harm or even death.
Bottom line: While it is wonderful that the little boy is safe, it is tragic that such a magnificent animal was killed. And if Gregg's imaginary God did exist, He would deserve no credit for such a senseless tragedy.