Honor killing: Pakistani social media star offended religious conservatives.
This weekend Pakistani social media star Qandeel Baloch was strangled by her brother in what appears to be an "honor killing," according to multiple media reports.
Baloch was a fashion model, a YouTube video star and vlogger, and an outspoken feminist who challenged social norms in Pakistan with her popular but controversial social media posts. Her posts often shocked and divided the deeply conservative Muslim country where women are often repressed by their family and their community.
Police told CNN that Baloch was killed by her brother in her family's home after he had protested at the "kind of pictures she had been posting online."
Baloch, whose real name was Fauzia Azeem, recently offended many Muslim conservatives by posting pictures of herself with Mufti Qavi, a prominent cleric. She said the two of them enjoyed soft drinks and cigarettes together during the daylight hours in the holy month of Ramadan, when practicing Muslims fast from dawn to dusk.
The story infuriated many religious conservatives in the country, and further fueled Baloch's bad girl image.
The rebellious Baloch gave an interview earlier this year in which she discussed leaving an arranged (forced) marriage and striking out on her own:
I was 17 years old when my parents forced an uneducated man on me. The abuse I have been through… It happens in places like this, in small villages, in Baloch families. This happened to me too. I said, 'No, I don't want to spend my life this way'. I was not made for this. It was my wish since I was a child to become something, to be able to stand on my own two feet, to do something for myself.'
While being born as a female usually comes with a risk anywhere in the world, it's particularly perilous in a theocratic nation like Pakistan. The Washington Post reports that over 1,000 women die in honor killings annually in Pakistan. The reason:
Some Islamic fundamentalists think that only through the murder of an offending family member can honor be restored to the rest of the family.
While honor killings are a sad fact of life in the Muslim world, the numbers in Pakistan are particularly grim:
They (honor killings) have widespread appeal.

Eighty-three percent

of Pakistanis support stonings for adultery according to a Pew survey, and only 8 percent oppose it. Even those who chose modernity over Islamic fundamentalism overwhelmingly favor stonings, according to Pew research.
The Times Of India reports that in 2014-15, over 2,000 women and girls were victims of honor killings in Pakistan, according to the Pakistani Human Rights Commission.
Indeed, many Pakistanis used social media to celebrate the murder of Baloch because she was "immodest." Here is a sample of some of the appalling messages: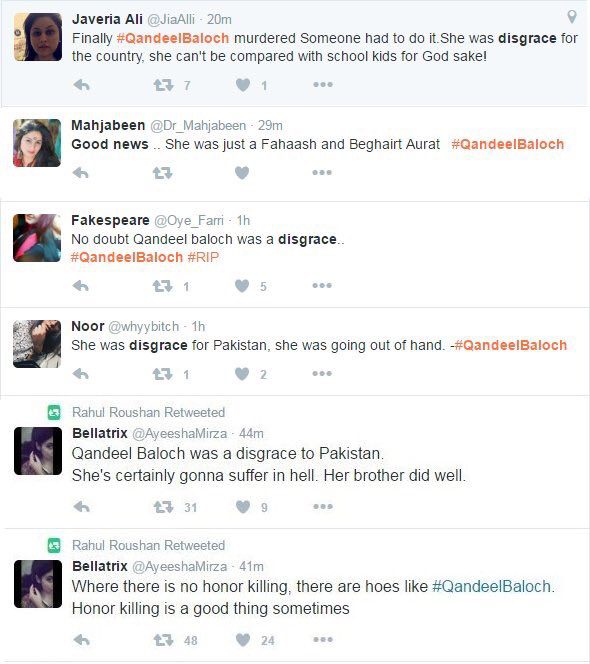 Earlier this month, Baloch had sought police protection from the government, saying she was receiving anonymous death threats. However, her request for police protection was denied.
On an even more depressing note, The Times Of India also reports it is doubtful that Baloch's brother will be punished for his crime because perpetrators of honor killings often go unpunished in Pakistan due to the fact that the victim's family can pardon them.
Qandeel Baloch's last Facebook post:
Watch a controversial but popular music video featuring Qandeel Baloch: