Mormons are told to oppose recreational marijuana at the ballot box.
Leaders of The Church of Jesus Christ of Latter-day Saints are instructing church members to vote against ballot initiatives that would legalize recreational marijuana.
Nine states have marijuana measures on the ballot this November, and in five states — Arizona, California, Maine, Massachusetts and Nevada — voters will decide on legalizing the recreational use of marijuana.
LDS church leaders issued an official letter urging church members to vote against measures that would legalize recreational marijuana earlier this week.
The letter says in part:
We urge Church members to let their voices be heard in opposition to the legalization of recreational marijuana use.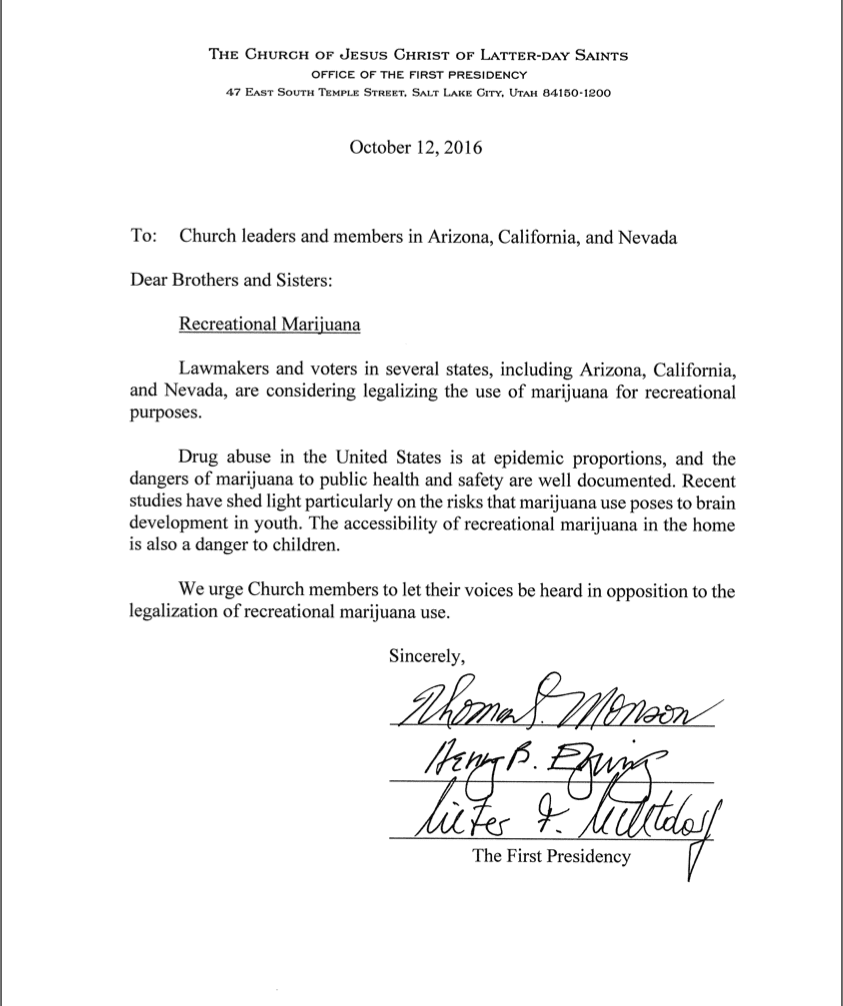 The letter also states that drug abuse in the U.S. is at "epidemic proportions, and the dangers of marijuana to public health and safety are well documented."
While the letter pays superficial lip service to the problem of drug abuse, it does not mention the real problem with drug abuse facing the Mormon Church. Currently Utah, a state dominated by Mormons and the Mormon Church, leads the nation in prescription drug abuse and prescription drug overdose.
The letter was signed by the First Presidency of the LDS Church: Thomas S. Monson, Henry B. Eyring and Dieter F. Uchtdorf, also known as the Prophet and his Apostles.
It is expected that congregation leaders will read the letter in weekly church meetings, telling members how they should vote.
In addition to opposing the legalization of recreational marijuana, the Mormon Church is also instructing church members to oppose legislation allowing assisted suicide.
Indeed, the Mormon Church has a history of meddling in political contests to promote their backward and ignorant worldview. In 2010 the Mormon Church was found guilty on 13 counts of political malfeasance in California after the church made illegal and secret contributions to the ultimately successful anti-marriage equality initiative, Proposition 8, in November, 2008.
As for the church's opposition to recreational marijuana, if the church was serious about drug abuse, they would be focusing their energy on the rampant prescription drug abuse that is ravaging their communities, rather than the relatively harmless use of recreational marijuana.
The fact that the leaders of the Mormon Church oppose recreational marijuana while remaining silent on the epidemic of prescription drug abuse currently destroying their community only confirms the fact that the church is a festering boil of hypocrisy, concerned more about scoring cheap culture war points than protecting the health and welfare of their members.
Bottom line: Technically the Mormon Church is doing nothing illegal by telling members how to vote. However, the fact that they do tell church members how to vote is not only only morally obnoxious, it is also yet another reason why churches should be taxed.