Alexandre Bissonnette, Trump loving terrorist and self-described Christian Crusader, has been charged with six counts of murder.
Bissonnette has also been charged with five counts of attempted murder.
CNN reports on the terrorist attack:
Bissonnette, 27, walked into the Quebec Islamic Cultural Center on Sunday night during evening prayers and fired indiscriminately into the crowd of men, women and children. Six men were killed in the deadly attack, one of the worst to target Muslims in a Western country.
The attack left six men dead and another 19 injured, including two who remain hospitalized in serious condition.
Bissonnette described himself as a "Christian Crusader" on his now deleted Facebook page.
Two days before the deadly attack the Christian terrorist posted the following image to his Facebook page: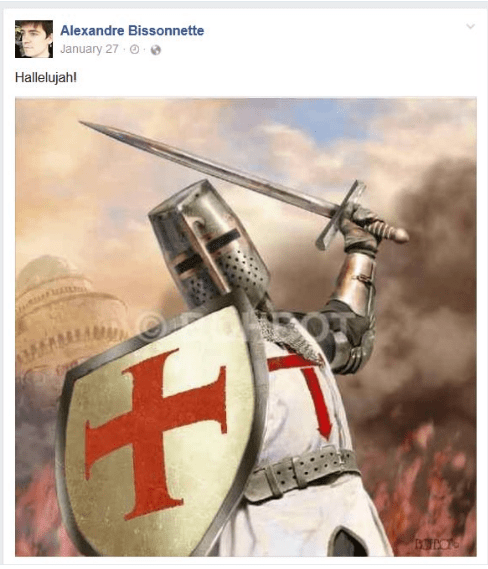 Media reports indicate Bissonnette is a white nationalist with a love for Donald Trump and the alt-right movement, as well as a contempt for left leaning liberals, feminists, and Muslim immigrants.
François Deschamps, an employment counselor who runs a refugee support Facebook page, told The Globe and Mail:
He (Bissonnette) was someone who made frequent extreme comments in social media denigrating refugees and feminism. It wasn't outright hate, rather part of this new nationalist conservative identity movement that is more intolerant than hateful.
On his Facebook page, the self-described Christian Crusader liked and followed many Christian leaders such as Pope John Paul II, William Lane Craig, Edward Feser and others. In addition, he liked the Facebook page of Le Pen, Trump, and other right-wing politicians.
It seems clear Bissonnette was a Christian terrorist. Yet it is unlikely that many in the mainstream media will identify him as such. However, rest assured, had he been a self-identified Muslim Crusader shooting up a Christian church, the media would have been quick to identify him as a Muslim terrorist.
The fact is, white nationalism, and the alt-right movement the killer embraced, is imbued with Christianity. Properly understood, the movement must be considered to be a manifestation, at least in part, of Christian extremism.
Bottom line: Bissonnette is a Christian terrorist, and a manifestation of the dangerous, right-wing, Christian extremism, exemplified by Trump and other neo-nationalist politicians.