Anti-gay pastor who claimed Orlando massacre victims got "what they deserve" is found guilty of eight counts of child molestation.
Pastor Ken Adkins, who had congregations in Atlanta, Jacksonville, and Brunswick, Georgia, was arrested late last summer on eight charges of child molestation and aggravated child molestation.
On Monday a jury found Pastor Adkins guilty on all charges. Adkins, 57, now faces life in prison. He will be sentenced on April 25.
Before his arrest the controversial Georgia pastor had been a vocal and determined opponent of LGBT rights, and even went so far as to celebrate a horrific mass shooting that left 49 dead and scores more wounded at a gay nightclub in Florida.
Immediately after the horrific attack at the Pulse nightclub in Orlando, Florida, Pastor Adkins tweeted the following: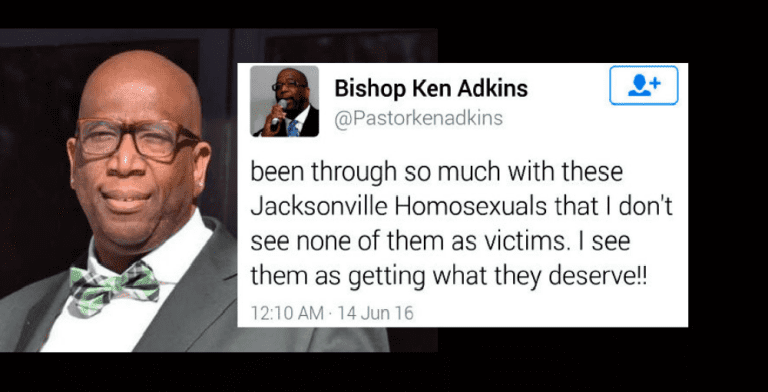 been through so much with these Jacksonville Homosexuals that I don't see none of them as victims. I see them as getting what they deserve!!
Pastor Adkins also tweeted:
Dear Gays, Go sit down somewhere. I know y'all want some special attention; yall are Sinners who need Jesus. This was an attack on America.
And:
It is a shame that Jax Gays are trying to use the Orlando Massacre as Blackmail to force the City to pass The HRO! Shame, Shame, Shame!
Pastor Adkins' Twitter bio claims he is "one of the most Respected Black Conservative Voices in America."