Calling the Manchester Arena bombing victims "sluts," "whores," and "sodomites," Christian extremists blame the victims, suggesting they deserved their tragic fate.
Right Wing Watch reports:
Christian extremist and anti-LGBTQ activist Theodore Shoebat posted a video on his website reacting to the terrorist attack at an Ariana Grande concert in Manchester, England…
In the video Shoebat "declared that he has no sympathy for those who were killed or injured because they are all 'sodomites-lovers' and 'sluts.'"
Shoebat said:
I really have no sympathy for these people. The people who died, the people who were injured, the people who were scared out of their minds, who ran away [screaming], I really don't care. The types of people who go to these concerts are the same types of people who are responsible for the degeneracy that you see in society.

They go to these concerts dressed up as whores, dressed up as sluts, they're pro-sodomite, they're pro-divorce, they're pro-infidelity. They want evil, they want decay, they want sodomy, they want Sodom and Gomorrah.
Shoebat went on to claim that Ariana Grande "is a nasty, evil woman."
However, Shoebat was not the only Christian extremist to blame the victim. On Twitter, Christian blogger Jennifer Mayer claimed that God was using the terror attack to send Ariana Grande a message about "being promiscuous and promoting homosexuals."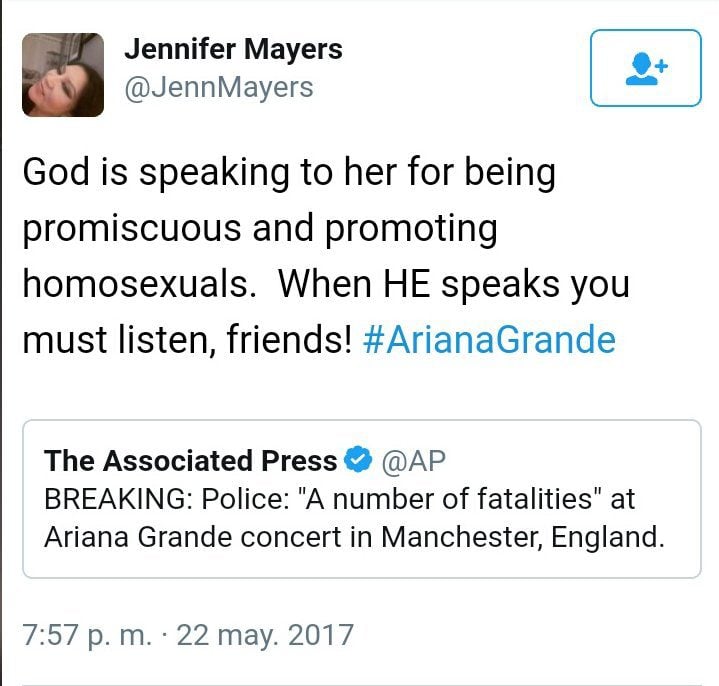 (God is speaking to her for being promiscuous and promoting homosexuals. When HE speaks you must listen, friends! #ArianaGrande.)
Adding to the chorus of deplorables, right wing nut and conservative thought leader Alex Jones called the victims of the Manchester Arena bombing "liberal trendies." Discussing President Trump, Jones said:
And less than 24 hours after President Trump finishes that speech, a big bomb goes off at a pop star's rock concert bombing a bunch of liberal trendies. The same people — god love them — on average who are promoting open borders, bringing Islamists in.
Not to be outdone in the deplorable department, a spokesman for the NRA claimed the Manchester Arena bombing happened because of "gender bending" and gun control.
Bottom line: Christian extremists and other conservatives are happy to blame the victim in order to score ideological points, even if she is only eight years old.