The Holy Bible… But Gayer: The Bible rewritten with Rihanna as God and drag queens as disciples makes conservatives angry.
Popular vlogger Elijah Daniel's has rewritten The Bible to be more gay friendly by portraying Rihanna as God and Donald Trump as Satan. Yet not everyone was pleased with the blasphemy, and at one point earlier this week Amazon pulled the book from its electronic shelves.
However, after multiple complaints, cooler heads prevailed, and the controversial but humorous Gay Bible is once again available on Amazon.
On his Twitter account, Daniel shared the drama of having his book banned by Amazon, and then eventually reinstated:
HAHAHAHAHA AMAZON EMAILED ME AN APOLOGY SAYING IT WAS AN ACCIDENT OK ME 2 pic.twitter.com/hJ17UhiwfH

— fagdad elijah daniel (@elijahdaniel) September 18, 2017
The Independent reports on the book banning by Amazon:
The book briefly became the number one new release in Christian ebooks and Bibles but within hours of being posted on the US version of Amazon it was removed for unknown reasons.
The Independent also offers some background on Daniel:
Mr Daniel is most famous for recently becoming the Mayor of Hell in Michigan for a day and banning heterosexual people from the town.
Pride also reports on Daniel's new and improved Bible:
The EDV (Elijah Daniel Version) translation has a few updates from previous editions; Rihanna is God, she made Adam and Steve, not Adam and Eve, and instead of wine, Jesus turns water into mimosas.

…

Daniel is fending off the haters, and says that his satirical gay bible is for all the queer kids out there who were made miserable by the teachings of Christianity, including himself.

…

Many LGBT people have already told Daniel that his bravery and humor helped them come out to their own familes and friends. One user wrote:

"I told myself if u can publish the gay bible & not give a fuck abt criticism then I can come out to my friends today n I did!!! Thank you for giving me the confidence to do this, I've been terrified for a while now." Another posted, "I didn't come out to my parents bc I need a home but u made me feel happier abt my sexuality :')."
Indeed, though some conservative Christians are angry with The Holy Bible… But Gayer, most of the reviews are quite favorable.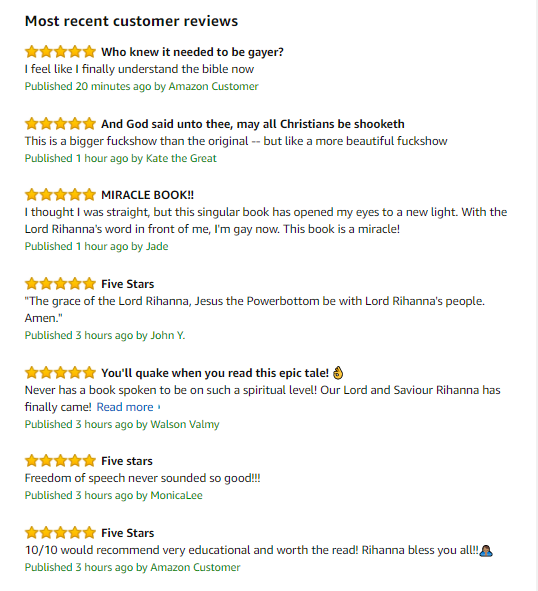 Bottom line: Amazon did the right thing by reinstating The Holy Bible… But Gayer. Now do yourself a favor and read some of the reviews – they will not disappoint.