White pride: Charlotte mayoral candidate Kimberley Paige Barnette, a Republican, lists being white among her qualifications for holding public office.
Barnette, 53, is a former magistrate in Mecklenburg County, and is currently running for Mayor in Charlotte, North Carolina. Earlier this month Barnette promoted her candidacy by posting the following on her Facebook page: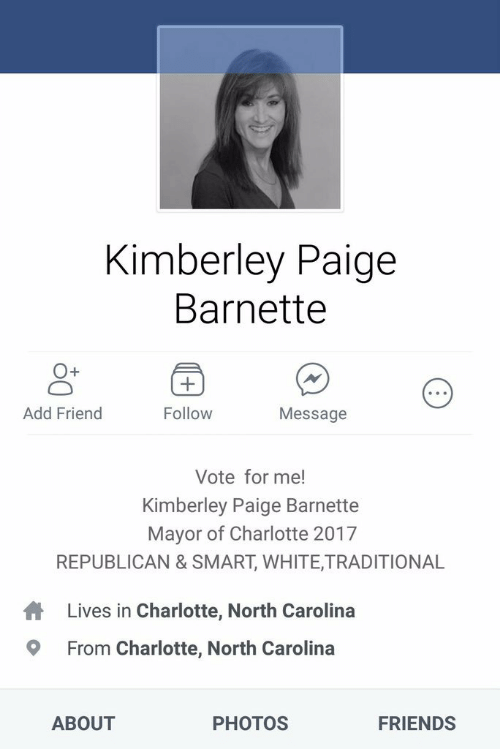 VOTE FOR ME!

REPUBLICAN & SMART, WHITE, TRADITIONAL.
Barnette may be white, but she is not smart. After making the public Facebook post listing "white" as one of her qualifications for mayor, the candidate was blasted on social media.
Making an attempt at damage control, Robin Hayes, the North Carolina state GOP chairman, released a statement denouncing Barnette's racially charged post. Hayes told WRAL
Any suggestion that a candidate is more or less qualified for political office based on their skin color alone is offensive to North Carolina Republicans, and we condemn it.
Hayes added:
This type of suggestion has no place in our public discourse.
Hayes deserves credit for denouncing the white supremacist, but remember: While not all Republicans are racist, most racists are Republicans.
After the social media outrage, Barnette deleted the offensive post and deactivated her Facebook account. In addition, Barnett has apologized for the post. She now claims that she was not trying to suggest that she was a better candidate because of her skin color.
The Hill reports the GOP candidate is "trailing her two competitors in the Republican primary for Charlotte's mayor, which is scheduled for later this month."
More details about Barnette from The Charlotte Observer:
In a WTVI debate last month, Barnette criticized last September's Charlotte protesters. She called the protests "an expression of Democratic behavior."

Asked how the city could help its lower-income residents, Barnette said, "I don't think we should encourage more lower-income people to (come to) Charlotte."

"We should attract higher-income people."
HuffPost reports Barnette tried to clarify her rationale for her controversial and offensive Facebook post in an email to QNotes, a North Carolina gay publication:
I'm not prejudice. I do not judge other people. Other people judge me. What is the difference? I say I'm white. Others describe themselves as example transgenders. Are they labeling themselves? I'm also a divorced mother of two adult children. I accept others as who they are. I have traditional conservative views when it comes to family and friendships.
The GOP mayoral primary is scheduled for September 12.
Bottom line: After the election of Donald Trump, a white supremacist running for mayor in Charlotte, North Carolina, thought that listing "white" as a qualification for holding public office was a good idea.