Alexandre Bissonnette, self-described "Christian Crusader," pleads guilty to killing six and injuring more in a 2017 Quebec mosque attack.
Earlier today Bissonnette pleaded guilty to six counts of first-degree murder and six counts of attempted murder in connection with the 2017 attack at the Quebec Islamic Cultural Centre.
CBC News reports:
Alexandre Bissonnette, the man who stormed a Quebec City mosque in January 2017, killing six and critically injuring five, said Wednesday he has changed his plea to guilty because he is deeply sorry for the pain he caused and is ashamed of his actions.

Reading from a written statement, the 28-year-old addressed a Quebec City courtroom filled with the victim's families, survivors and their supporters Wednesday.

"I'd like to ask for your forgiveness for all the harm I caused you, even though I know what I did is unforgivable," he said.

"In spite of everything that was said, I am not a terrorist, nor Islamophobic … [I am] more a person who was carried away by fear and a horrible form of despair."
While Bissonnette expresses remorse now, prior to the cowardly attack he expressed a love for Donald Trump, white nationalism, and the alt-right, all the while describing himself as a "Christian Crusader."
Bissonnette described himself as a "Christian Crusader" on his now deleted Facebook page. Two days before the deadly attack the Christian terrorist posted the following image to his Facebook page: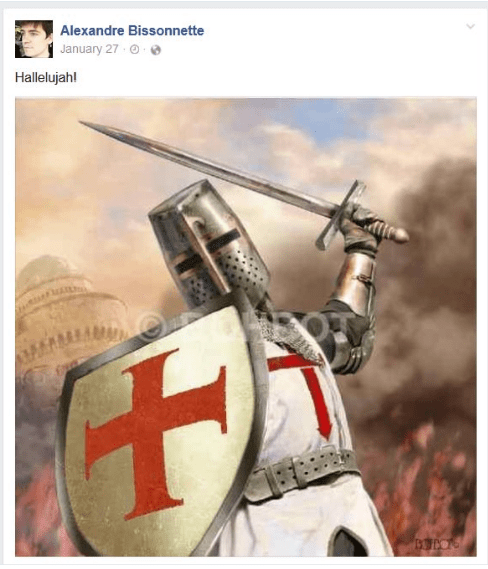 Media reports demonstrate that Bissonnette was a white nationalist with a love for Donald Trump and the alt-right movement, as well as a contempt for left leaning liberals, feminists, and Muslim immigrants.
François Deschamps, an employment counselor who runs a refugee support Facebook page, told The Globe and Mail:
He (Bissonnette) was someone who made frequent extreme comments in social media denigrating refugees and feminism. It wasn't outright hate, rather part of this new nationalist conservative identity movement that is more intolerant than hateful.
On his Facebook page, the self-described "Christian Crusader" liked and followed many Christian leaders such as Pope John Paul II, William Lane Craig, Edward Feser and others. In addition, he liked the Facebook page of Le Pen, Trump, and other right-wing politicians.
While it seems clear Bissonnette was a Christian terrorist, many in the mainstream media refused to identify him as such. However, rest assured, had he been a self-identified "Muslim Crusader" shooting up a Christian church, the media would have been quick to identify him as an Islamic terrorist.
Bottom line: Bissonnette, a Christian terrorist, and a manifestation of the dangerous, right-wing, Christian extremism exemplified by Trump and other white nationalists, has pleaded guilty to killing six and injuring more in the 2017 Quebec mosque attack.
(Large portions of this post were previously published here.)