In a despicable display of inhumane animal cruelty, New York cops can be seen using their patrol cars to torture and kill a raccoon.
A police department in a small town in New York is facing major backlash online after a video was posted of several officers using their police cars to intentionally run over a raccoon multiple times in a parking lot.
The video is disturbing, and shows officers from the Town of Coeymans Police Department using their patrol cars to torture and kill a raccoon. In the deeply troubling video officers can be seen taking turns running over the raccoon is a shopping center parking lot:
Witnesses to the atrocity were horrified by the bizarre and cruel spectacle.
In a statement released by the Town of Coeymans Police Department, authorities claim the raccoon was rabid; however, there is no proof that this was the case, and even if true, it would not excuse the cruel, unprofessional, and inhumane handling of the situation.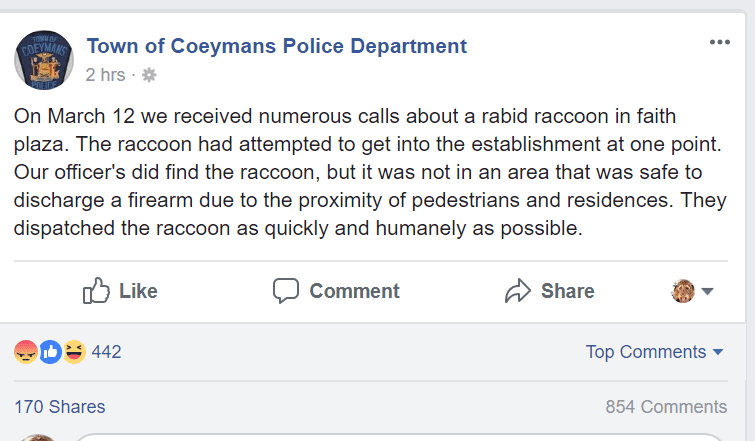 On March 12 we received numerous calls about a rabid raccoon in faith plaza. The raccoon had attempted to get into the establishment at one point. Our officer's did find the raccoon, but it was not in an area that was safe to discharge a firearm due to the proximity of pedestrians and residences. They dispatched the raccoon as quickly and humanely as possible.
In fact, reactions were so overwhelming in their condemnation that the
Town of Coeymans Police Department
deleted over a 1,000 comments from their original post trying to explain and justify the officer's inhumane and unprofessional actions.
Indeed, the gratuitous and needless torture and killing of the raccoon, along with the lame attempt to justify the inhumane and incompetent actions of the officers involved, have been met with overwhelming anger and outrage.
For example:
You guys really need some help. First, the officers ridiculous actions, then the ridiculous statement and now removing the comments from the outraged people of this community. This should really make this situation even better. Someone over there has to have some clue on how to deal with this.
I don't know what's worse: the police officers who actually did this or the department who is justifying their acts.

Running him over numerous times, EVENTUALLY killing him is humane??? You're kidding me! I'm appalled!! Those Officers need their badges taken immediately! I can only imagine how they treat those in custody. Shame on you for not holding them accountable!!

While I have always appreciated our local police, this is disgusting on every level. These officers should be immediately removed from duty. People with these types of decision making skills shouldn't be walking around with guns and badges.
This post is utter bullshit. The officers ENJOYED torturing and killing this animal – the epitome of animal cruelty. Poor excuses for human beings is what they are. Trying to defend anything about this puts you right on par with them. And you guys are supposed to be setting an example for children…. I'm sure they're all very proud. Thank you to everyone who is stepping up and speaking out – "Time's Up" for animal abusers too!
Animal abuse can't be tolerated. You must fire those officers who ran down that raccoon. If they will abuse an animal like that they will brutalize suspects. No tolerance for such cruel behavior.
Bottom line: Some New York cops thought it would be a good idea to take turns running over a raccoon in a shopping mall parking lot. They were wrong.