GOP candidate tweets death threat: He's "pro life," but he loves guns, and he threatened to shoot a congressman for opposing the NRA.
Carl Nett, a Republican candidate for Kentucky secretary of state, is facing a national backlash after claiming he would like to shoot Democratic Congressman John Yarmuth because the Democrat opposes the National Rifle Association (NRA), America's premier terrorist organization.
Nett issued his threat while responding to a tweet from Rep. John Yarmuth, who was boasting about his "F" grade from the National Rifle Association.
In his tweet, Congressman Yarmuth asked colleagues to join him in wearing a button displaying the designation until "the GOP finally stands up to the gun lobby and helps us pass common-sense gun safety legislation. Find me to get a pin."
An obviously upset Nett replied to the tweet by urging the Democratic lawmaker to move the pin so as to provide a better target for him to shoot at. Nett tweeted: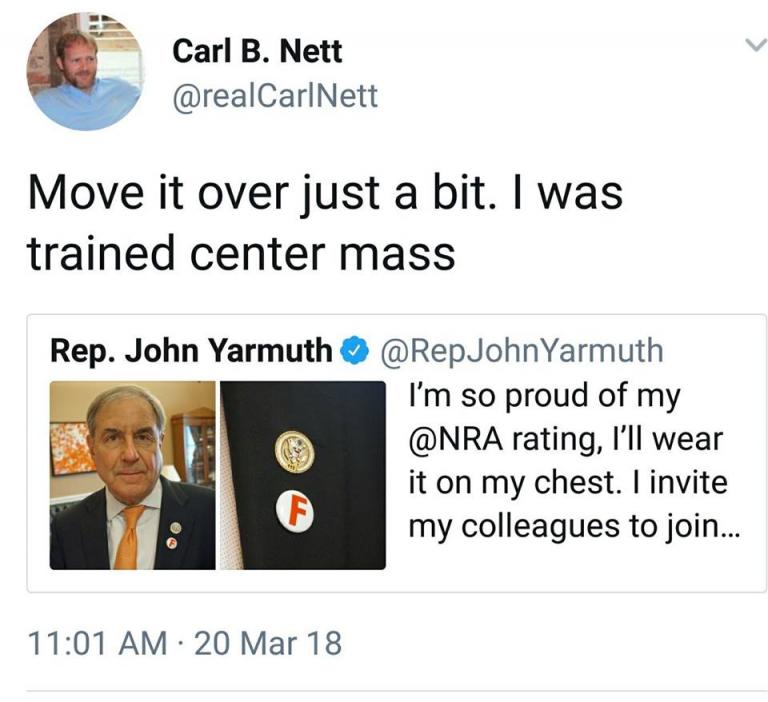 Move it over just a bit. I was trained center mass
The thinly veiled death threat was immediately condemned by both sides of the aisle.
The Kentucky Democratic Party issued a statement declaring Nett was "unfit to be elected for or hold any Kentucky office."
In that statement, Kentucky Democratic Party Chairperson Ben Self said:
Carl Nett's comment about shooting Rep. John Yarmuth is not only alarming but terribly offensive given the numerous shootings including one in Great Mills, Maryland today. Nett, a current Republican candidate for secretary of state and campaign contributor to Gov. Matt Bevin, is obviously unfit to be elected for or hold any Kentucky office. Any threats of violence cannot be tolerated in our current political or public forums.
GOP spokesman Tres Watson also slammed Nett's comments as unacceptable. In a statement Watson said:
We believe the tweet was inappropriate. We condemn any suggestion of violence against public servants, even if in jest.
Kathryn M. Stocks, Scott County GOP Chair, issued a statement as well, noting that the organization does not condone threats of violence, and cancelling a speaking engagement scheduled for this evening:
Originally, Mr. Nett had been scheduled to speak to the regular monthly meeting of the Scott County Republican Party this evening. That invitation has now been rescinded and there are no plans to offer another. We call on Mr. Nett to publicly apologize to Congressman Yarmuth immediately.
The offensive tweet has since been deleted, but not forgotten.
Bottom line: A gun loving Republican defended the NRA by sending a death threat to a Democratic congressman via Twitter. But he loves Jesus, and he's "pro life."
And so it goes.