The mother of Waffle House shooter Travis Reinking is a Christian homeschool advocate who claims mass shootings are caused by a lack of prayer in school.
Earlier this week Reinking was taken into custody after killing four people of color and wounding two others at a Waffle House in Antioch, Tennessee, early Sunday morning.
According to reports, Reinking, 29, of Morton, Illinois, began shooting patrons and employees with an AR-15 rifle about 3:25 a.m. at the 24-hour restaurant on Murfreesboro Pike in Antioch, near Nashville.
The Chicago Tribune reports Reinking came from a Christian family and was home-schooled:
He came from a Christian family and was home-schooled.
In addition, Reinking collected guns, struggled with mental health issues, and identified as a sovereign citizen.
It has also been revealed that Reinking's father, Jeff Reinking, promised authorities he would confiscate his son's weapons after young Reinking was arrested while protesting as a sovereign citizen at the White House in 2017. However, the Waffle House shooter's father gave the weapons back to his son after promising to confiscate them, with tragic consequence.
As for Reinking's mother, Judy Reinking, she had an active social media presence prior to her son's heinous crime. Heavy reports that social media posts from Reinking's mother "are laced with Christian references," some of which deal with parenting, the benefits of Christian homeschooling, and even school shootings.
For example in  2016, she shared a graphic that read:
When you carry a bible, the devil gets a headache. When you open it, he collapses. When he sees you reading it, he faints. When he sees you living it, he flees…
In 2015, Reinking's mother shared a graphic on school shootings. It reads:
I don't remember a single school shooting when I was a kid. What I do remember is our teacher having us begin the day reciting the pledge of allegiance, reading from the Bible and praying. We also had the Ten Commandments on the wall. Maybe getting rid of those things wasn't such a good idea after all!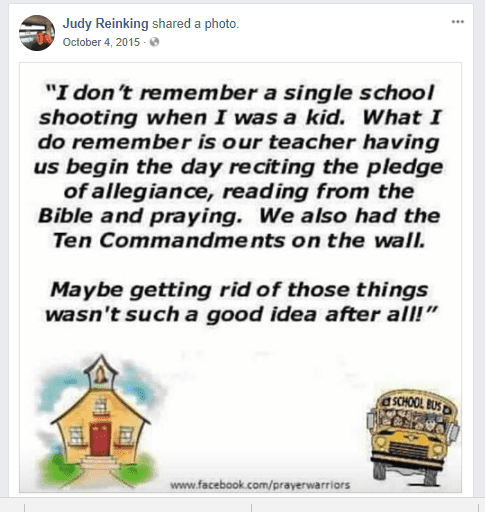 In 2010, she wrote:
So thankful for the best gift I've ever been given- JESUS!
Heavy reports that Reinking's mother also "shared a note on a homeschool convention shared by the Association of Peoria Area Christian Educators" as well as photo's praising Ken Ham's Arc Encounter and Creation Museum, a project devoted to teaching and promoting the false notion that Biblical creationism is a legitimate scientific theory.
Bottom line: Waffle House shooter Travis Reinking was raised in a Christian family, was home-schooled, and was given unlimited access to guns.
And so it goes.