Despicable child abuse: In a horrifying video out of France an angry old priest is seen slapping a crying infant during baptism.
In a YouTube video released yesterday and titled "Un prête gifle un nourrisson lorde son baptême" ("A priest slaps an infant during his baptism") an angry old French priest can be seen slapping a crying infant during their baptism.
The following is a translation of the exchange seen on the video via Reddit user CeaRhan:
Priest: It's a tantrum, this is called a tantrum.

I will spill water on (just?) the forehead, hmm? And then, I'll kiss the lil' kid. Because he'll have become a little christian. Ohlalalala. (expressing discontentement and kindness, basically a soft "come on!" directed at the kid)

0:17 I will scream louder than you. So, calm down. Calm down.

>he hits the kid

> indigned people start raising their voices, but they're very gentle in the way they're saying it, probably under the shock and by respect. "No no", "he's afraid" and "don't hit the kid" are said.

Priest: Calm down! You need to calm down! (the father can be heard snapping out of the shock)

Woman: Sir, we don't hit him.

Woman (in the audience): Isn't this forbidden?!

0:31 Priest: Now you calm down. There. You will calm down. You will calm down. You will calm down. There.

>Meanwhile the father is taking his kid back.

A woman, to the priest: Let go.

No, no, let g-

And it cuts, the father probably about to start an argument with the priest.
While it is true that the Catholic church is infamous for abusing children, with a long and well documented history of Catholic priests and nuns abusing children in countless ways, including rape and sexual abuse, abusive corporal punishment in Catholic schools and orphanages, and the emotional and psychological abuse entailed in teaching innocent children that they are broken, sinful, and in need of redemption; the fact remains that the blatant and despicable abuse of an infant captured on this video is nevertheless quite horrific.
Bottom line: In a disturbing video out of France an angry old priest is seen slapping a crying infant during baptism. But the Catholic church will call it "Christian love."
Another example of a priest caught on video hitting children: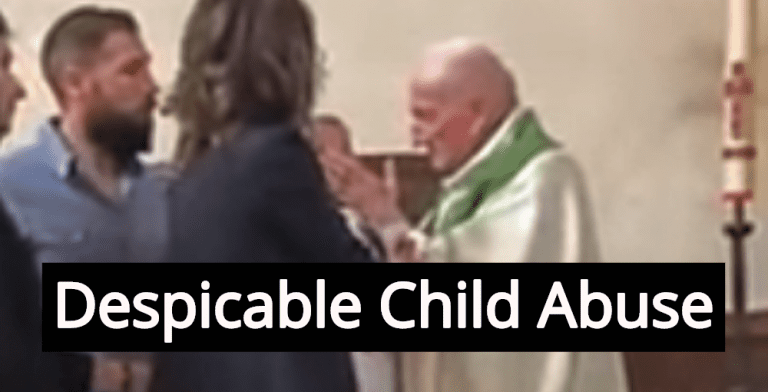 Angry Old French Priest Slaps Baby During Baptism (Image via Screen Grab)