Goodbye separation of church and state – hello Christian theocracy: Dramatic change is coming with the confirmation of Supreme Court Justice Brett Kavanaugh.
Kavanaugh's successful confirmation to the Supreme Court last week despite an intemperate, childish, and belligerent performance during his senate confirmation hearings, as well as credible allegations that he sexually assaulted multiple women as a young man, will reshape the court in dramatic fashion, threatening the separation of church and state, and promising the nightmare that would be a Christian theocracy.
Commenting on the prospect of Kavanaugh's appointment to the Supreme Court, CNN's Jeffrey Toobin explained:
I don't think same-sex marriage is in jeopardy but think about the bakery case where a baker didn't want to make a wedding cake [for a gay couple.] Wait until they start getting cases from hotel owners who say I don't want to use my creativity for gay customers, and restaurant owners who don't want to serve gay customers."

I mean this is a dramatic change coming, and the conservatives are in charge. There is a reason why the Evangelicals and the base of the Republican Party have stood with Donald Trump all this time. It's not because they admire Donald Trump's personal life, but because he has delivered on what is most important to them.
Indeed, with Brett Kavanaugh on the court things will change for the worse. The following are excerpts from statements given by leading advocates for church-state separation:
Larry T. Decker, Executive Director of the Secular Coalition for America writes:
The confirmation of Judge Brett Kavanaugh to our nation's highest court is a supreme injustice. By voting to confirm Judge Kavanaugh, the Senate has compromised the integrity of the Supreme Court and imperiled the civil rights of the most vulnerable among us. … Judge Kavanaugh has repeatedly issued rulings and opinions that convey a disturbing rejection of the constitutional principle of a separation between church and state. There is no reason to doubt that Justice Kavanaugh will bring this radical jurisprudence with him to the Supreme Court and issue rulings that erode the Establishment Clause, undermine civil rights, and further distort the principle of religious liberty.
Rachel Laser, CEO and President of Americans United for Separation of Church and State notes:
Brett Kavanaugh has shown himself to be unworthy of a seat on the Supreme Court…

Kavanaugh's views alone disqualified him from the Supreme Court, particularly his opposition to the separation of religion and government. His record as a judge of allowing people to use 'religious freedom' to discriminate is especially ominous in light of the Religious Right's movement, empowered and emboldened by this administration, to misuse this core American principle to advance a regressive political agenda…
Nick Fish, President of American Atheists opines:
From the moment Brett Kavanaugh was nominated to this position, we knew that he presented a unique and existential threat to the constitutional principles of religious equality and the separation of religion from government.

During this confirmation process, our worst fears about Kavanaugh's record, judicial philosophy, and temperament were confirmed. He has repeatedly shown himself to be a partisan ideologue who is more interested in protecting religious privilege for politically powerful sects than standing up for true religious freedom.

Kavanaugh's views on religious issues are deeply outside the mainstream and threaten decades of precedent on issues ranging from taxpayer subsidy of religion and proselytizing in public schools, to civil rights protections for LGBTQ Americans and access to reproductive health care for women.
The alarm is justified. During day two of his confirmation hearing Kavanaugh suggested that if confirmed as a Supreme Court Justice he would support allowing Christian prayers at public school events.
And during day three of his confirmation hearing Kavanaugh equated birth control with "abortion-inducing drugs," suggesting that he might not only go after a woman's right to abortion, but might also seek to limit or prohibit birth control.
Bottom line: As a Supreme Court Justice Brett Kavanaugh threatens the separation of church and state while opening the door to a Christian theocracy.
Weep for the nation.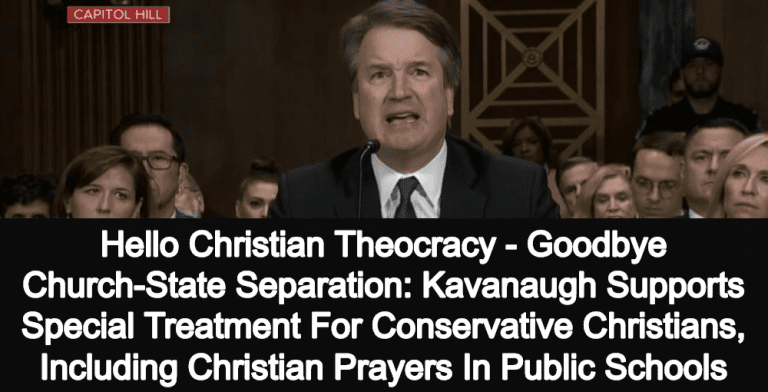 We want to know what you think about the upcoming midterm elections. Vote in our poll below!