A Christian lawmaker celebrates the fact that abortion may soon be outlawed and women will be forced to resort to dangerous, unsafe abortions.
Eric Barber, a Christian lawmaker from West Virginia who left the Democratic party because he thought it was "anti-Christian," is celebrating the confirmation of Supreme Court Justice Brett Kavanaugh by fantasizing about women suffering and dying from dangerous "coat hanger" abortions.
Barber, a councilman for Parkersburg City and an anti-abortion Christian extremist, recently posted a comment on Facebook referencing Saturday's Senate vote to confirm Kavanaugh, who many believe will vote to overturn Roe v. Wade, which would allow red states to make abortion completely illegal.
On Facebook Barber celebrated Kavanaugh's confirmation and the possibility that abortions would be made illegal by writing: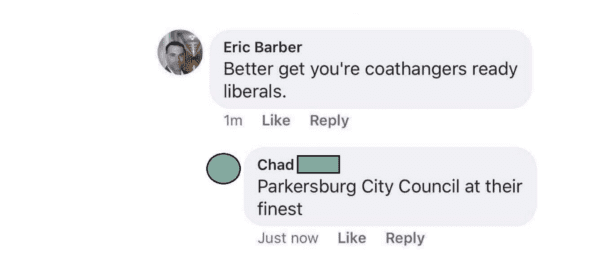 Better get you're coathangers ready, liberals
Wow. What a monster. The fact that this pathetic idiot doesn't even know the difference between "you're" and "your" only reinforces the point that he is a deranged and ignorant Christian extremist.
Barber has since deleted the obnoxious Facebook post, but many horrified observers captured screenshots of the open expression of hatred and contempt for women's autonomy.
The following are some of the reactions to Barber's hate speech:
This is Eric Barber, a West Virginia councilman. pic.twitter.com/9Q6Sng6m4d

— Nancy Lee Grahn (@NancyLeeGrahn) October 7, 2018
Hey, if there is anyone in #WestVirginia who still has some ethics, please remember this guy, ERIC BARBER, and vote him out!!! pic.twitter.com/nuP8gKxUBR

— mindy trotta (@mindytrotta) October 7, 2018
Contact info to lodge a complaint against Eric Barber, the "get coat hangers ready" City Councilman. https://t.co/JRPpkOe1ui

— VivreLuxe (@VivreLuxe) October 7, 2018
Degenerate savage #ericbarber https://t.co/PFoXZWkghn

— Humpty Trumpty (@Tweetens) October 7, 2018
Eric Barber's coathanger comment only further proves that the fight against reproductive freedom has never been about saving babies. It's been about hurting women.

— Ofjoseph Trout (@Jenny_Trout) October 8, 2018
Barber has a well documented history of using his position to promote his Christian extremism. In July, the Freedom From Religion Foundation sued the Parkersburg City Council for its practice of reciting Christian prayers at each meeting. In the complaint Barber is singled out for his particularly egregious behavior:
Local plaintiffs include [Wood County Democratic Party Executive Committee Chairman] Daryl Cobranchi, who has frequently attended meetings and been directed to stand for the Lord's prayer, a practice, he notes, which has made him conspicuous by his nonparticipation and which "assigns to second-class status anyone who is not Christian." Likewise, Eric Engle, also a Parkersburg resident, follows city matters and has felt uncomfortable and pressured to participate in the Christian prayer during public meetings.

At least one member of the City Council has been openly hostile to nonparticipants, the legal complaint charges. Councilman Eric Barber glared at attendees who sat during the prayer at a meeting in September. At the end of that prayer, Barber positioned himself near his microphone, pressed the button, and shouted, "Amen."
Bottom line: Eric Barber, Parkersburg City Councilman and obnoxious Christian extremist, celebrates the confirmation of Supreme Court Justice Brett Kavanaugh by fantasizing about women suffering and dying from dangerous "coat-hanger" abortions.
(H/T David McAfee writing for Friendly Atheist)