Deplorable: Minnesota GOP Senate Candidate Karin Housley compared Michelle Obama to a chimpanzee in a Facebook post.
The Huffington Post reports:
Republican Karin Housley, a state senator running to represent Minnesota in the U.S. Senate, compared then-first lady Michelle Obama to a "chimp" in 2009. In an April 2009 Facebook post, Housley criticized the first lady's posture when she met Queen Elizabeth II.
On Facebook Housley wrote:
Michelle is soooo far from cool. Don't we expect our First Ladies to at least stand up straight? (And my dear sister, know the proper etiquette and DO NOT TOUCH THE QUEEN!)
Housley continued:
I do miss Nancy Reagan. Ronald even more. Speaking of Bedtime for Bonzo, I think even that chimp stood up straighter than Michelle. Uh-oh, someone is going to make a comment.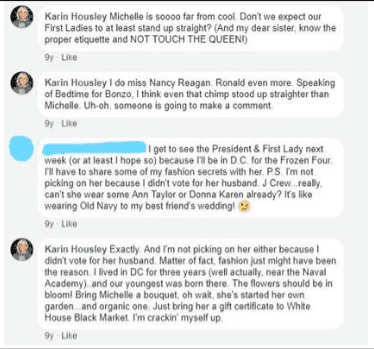 When asked about the deplorable comments, Jake Schneider, a spokesman for Housley's campaign, did not deny that the GOP candidate made the comments; instead, the campaign spokesman blamed the media for reporting the story.  
In an emailed statement to Huffington Post Schneider said:
It's not surprising the Huffington Post—basically an extension of the Democratic Party—would do Tina Smith's dirty work for her. This is what the radical left does when they are losing—they attack Republicans so they don't have to come up with solutions to the problems Minnesotans are facing.
In addition to racist comments directed at Michelle Obama, Housley has also used her Facebook page as a platform to attack the appearance of other women, at one point
referring
to Hillary Clinton as a "porker in a royal blue pantsuit."
Racism and fat-shaming? What a lovely person!
Karin Housley, the Republican candidate for U.S. Senate in Minnesota, is running against  Senator Tina Smith, a Democrat who was appointed to replace former Sen. Al Franken after Franken resigned amid allegations of sexual misconduct.
Currently Smith is leading Housley in the polls by an average of nearly 10 points, according to RealClearPolitics.
Bottom line: Minnesota GOP Senate candidate Karin Housley mocks Michelle Obama by comparing the former First Lady to a chimpanzee.