Deplorable: A Republican lawmaker is caught on camera yanking the microphone away from his female opponent's hand during a debate.
In an obnoxious display of toxic masculinity a frustrated Minnesota state Rep. Duane Quam can be seen ripping the microphone out of the hand of his Democratic challenger Jamie Mahlberg during a debate hosted by the city's League of Women Voters.
The debate, hosted in a public library Monday evening, became heated when the candidates began to discuss funding for public education. At one point in the debate, a visibly frustrated and impatient Quam, anxious to make a rebuttal statement, ripped the microphone from Mahlberg's hand. Understandably, Mahlberg recoiled in shock from the unexpected and violent action.
RPL Debate – Mic Ripped from Jamie Mahlberg's (DFL-25A) Hands
Adding insult to injury, Quam, in a violent gesture filled with contempt and frustration, threw the microphone back on the table after making his confused and rambling rebuttal statement.
Commenting on her opponent's disturbing behavior, Mahlberg told Splinter News:
It was disappointing to be on the receiving end of such disrespectful behavior from my current representative, but ultimately I'm focused on my campaign and the hard work I will continue to do to earn the support of the voters of the district.  
For his part, Quam later made an effort at damage control and apologized for his rude and violent behavior. Offering a lame excuse for his conduct, Quam blamed "nerves" for his poor behavior, telling the Post-Bulletin:
I respect Jamie and my actions at last night's forum did not reflect that. Unfortunately, my nerves got the best of me with our timed responses and I was not as graceful as I should have been while we shared the microphone. My sincere apologies to Jamie and I look forward to continuing a positive campaign.
Quam's apology is lame. His deplorable behavior reeks of sexism, misogyny, and cowardice. It goes without saying that this petty little bully would have never dared treating a male opponent the way he treated his female opponent.
Bottom line: Republican lawmaker Duane Quam became frustrated at a debate and ripped the microphone from the hand of his opponent. By his actions at the debate Quam showed himself to be an immature child, and thus has no business holding public office of any kind.
In short, the Republican war on women continues.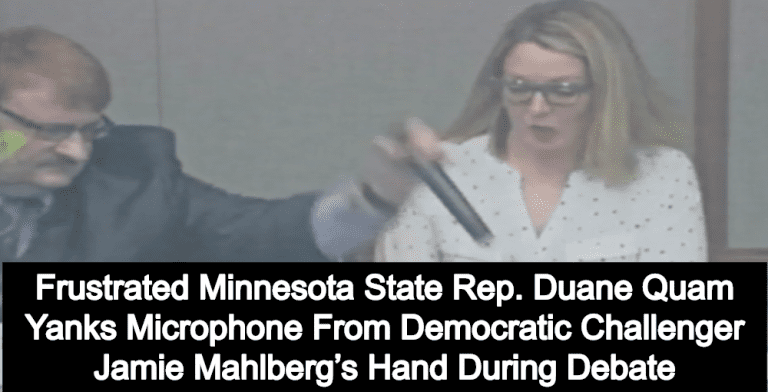 We want to know what you think about the upcoming midterm elections. Vote in our poll below!