The Devil made them do it: A rural Alabama police department is blaming atheists and satanists for a rise in violent crime in the area.
The Associated Press reports:
A rural Alabama police department that used social media to scold community members for rejecting God is coming under fire from a group that opposes mixing government and religious faith.
Earlier this week the Opp Police Department in Alabama made a post to their Facebook page blaming a rise in homicides on Satan and "young people" turning away from God: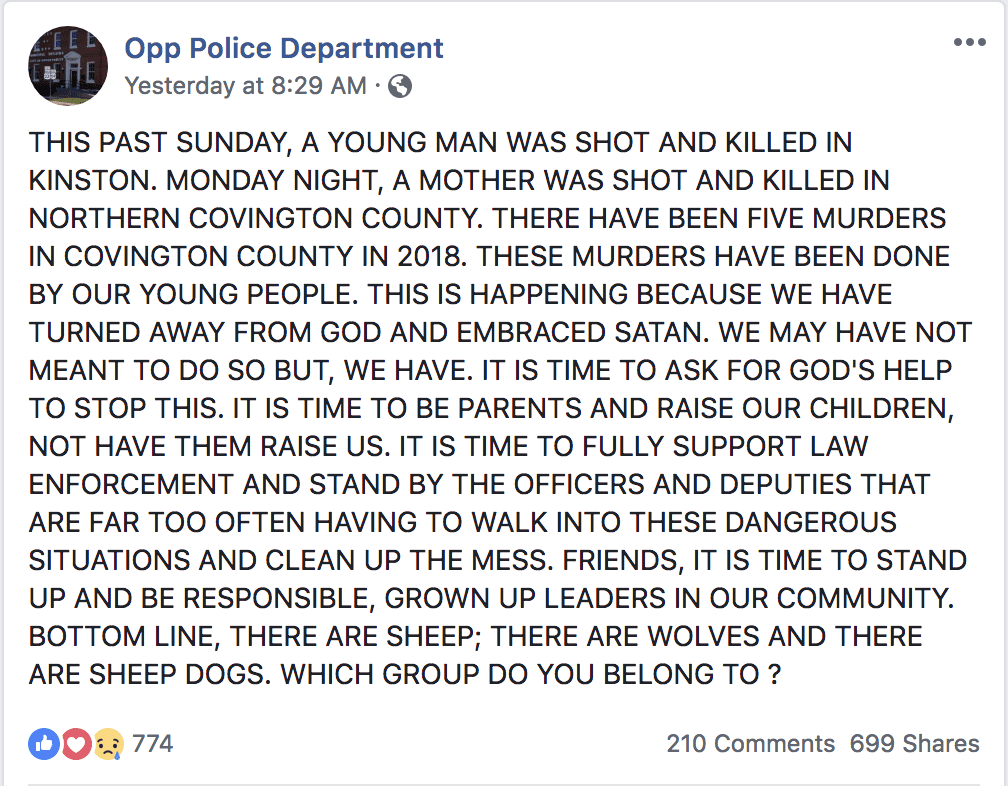 THIS PAST SUNDAY, A YOUNG MAN WAS SHOT AND KILLED IN KINSTON. MONDAY NIGHT, A MOTHER WAS SHOT AND KILLED IN NORTHERN COVINGTON COUNTY. THERE HAVE BEEN FIVE MURDERS IN COVINGTON COUNTY IN 2018. THESE MURDERS HAVE BEEN DONE BY OUR YOUNG PEOPLE. THIS IS HAPPENING BECAUSE WE HAVE TURNED AWAY FROM GOD AND EMBRACED SATAN. WE MAY HAVE NOT MEANT TO DO SO BUT, WE HAVE. IT IS TIME TO ASK FOR GOD'S HELP TO STOP THIS. IT IS TIME TO BE PARENTS AND RAISE OUR CHILDREN, NOT HAVE THEM RAISE US. IT IS TIME TO FULLY SUPPORT LAW ENFORCEMENT AND STAND BY THE OFFICERS AND DEPUTIES THAT ARE FAR TOO OFTEN HAVING TO WALK INTO THESE DANGEROUS SITUATIONS AND CLEAN UP THE MESS. FRIENDS, IT IS TIME TO STAND UP AND BE RESPONSIBLE, GROWN UP LEADERS IN OUR COMMUNITY. BOTTOM LINE, THERE ARE SHEEP; THERE ARE WOLVES AND THERE ARE SHEEP DOGS. WHICH GROUP DO YOU BELONG TO ?
The obnoxious Facebook post is obviously inappropriate and illegal. Claiming that the recent murders are a result of young citizens turning away from God and embracing Satan is simply silly and juvenile.
More important, by using the police department's official Facebook page to promote religious superstition, the the department is guilty of breaking the law. A government agency is constitutionally prohibited from endorsing any religious ideology.
Responding to the juvenile and illegal Facebook post, the Wisconsin-based Freedom From Religion Foundation (FFRF) lodged a complaint with the police department asking for a retraction. The letter begins by asking:
Who is policing the police?
The letter goes on to ask for a retraction:
FFRF is asking that the police department retract the portion of its post that decries nonbelief (and Satanism) while promoting god belief.
Commenting on the story, FFRF Associate Counsel Sam Grover said:
The department has very directly endorsed one religious ideology to the exclusion of minority religions and atheism, and decried Satanism. Neither message is permissible.
FFRF Co-President Annie Laurie Gaylor opined:
Police officers take an oath to protect and serve all citizens, including those who practice a minority religion or no religion at all. This inappropriate post sends a chilling message to non-Christians and non-believers that they are presumed guilty.
Bottom line: A rural Alabama police department is blaming atheists and satanists for a rise in violent crime in the area.