Biblical justification: Citing the Bible, Australian Senator Fraser Anning blames Muslims for the terrorist attack which left 49 people dead at two mosques in Christchurch, New Zealand.
Senator Fraser Anning, a member of Australia's right-wing "One Nation" party, released a statement immediately after the New Zealand terrorist attack. In the statement Anning blamed Muslim immigrants for the terrorist attack at the two mosques, declaring:
The real cause of bloodshed on New Zealand streets today is the immigration programme which allowed Muslim fanatics to migrate to New Zealand in the first place.
Fanning goes on in his statement to cite the Bible as justification for the terrorist attack:
As we read in Matthew 26:52, "all they that take the sword, shall perish by the sword" and those who follow a violent religion that calls on them to murder us, cannot be too surprised when someone takes them at their word and responds in kind.
In the statement Fanning opines:
Let us be clear, while Muslims may have been the victims today, usually they are the perpetrators. World-wide, Muslims are killing people in the name of their faith on an industrial scale.

The entire religion of Islam is simply the violent ideology of a sixth century despot masquerading as a religious leader, which justifies endless war against anyone who opposes it and calls for the murder of unbelievers and apostates.

The truth is that Islam is not like any other faith. It is the religious equivalent of fascism. And just because the followers of this savage belief were not the killers in this instance, does not make them blameless.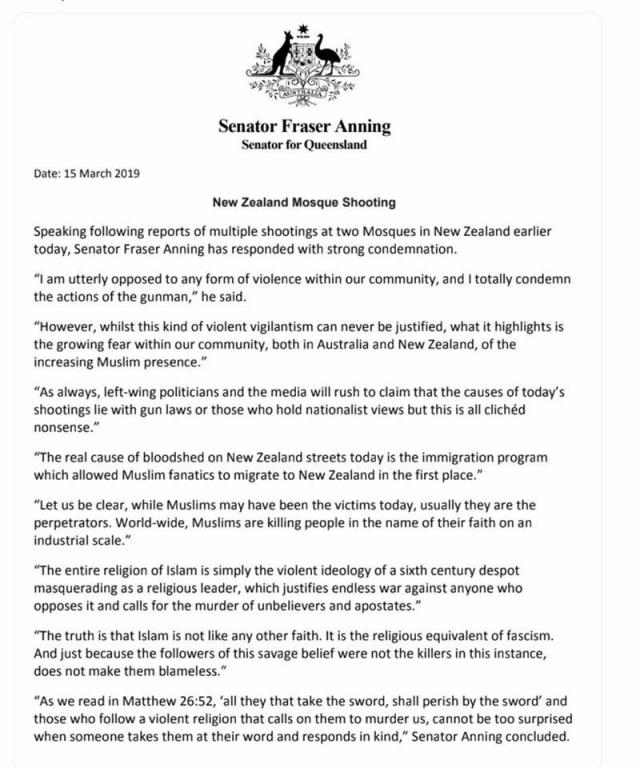 Fanning's deplorable remarks were denounced by many. For example, UK Home Secretary, Sajid Javid, accused Fanning of stoking extremism:
At a time for grieving and reflection, this Australian senator … fans the flames of violence & extremism. Australians will be utterly ashamed of this racist man. In no way does he represent our Australian friends.
Australia's Prime Minister Scott Morrison, said:
The remarks by Senator Fraser Anning blaming the murderous attacks by a violent, rightwing, extremist terrorist in New Zealand on immigration are disgusting. Those views have no place in Australia, let alone the Australian parliament.
And former Australian Prime Minister Malcolm Turnbull wrote:
Fraser Anning's comments today are contemptible. He is a disgrace to the Senate and what is worse, by spreading hatred and turning Australians against each other, he is doing exactly what the terrorists want.
Bottom line: Australian Senator Fraser Anning blames the victims, and quotes the Bible to justify the terrorist attack which left 49 people dead at two mosques in Christchurch, New Zealand.