Religious superstition makes you stupid: In an attempt to fight the magical powers of Harry Potter, Catholic priests in Poland are burning books.
Catholic priests in northern Poland have burned books they consider to be sacrilegious, including ones from the Harry Potter boy wizard series.

An evangelical group, the SMS from Heaven Foundation, published pictures of the burning – which took place in the city of Gdansk – on Facebook.

…

The Facebook post justifies the bonfire with Bible quotes condemning magic…
The Facebook post cites Bible verses in an attempt to justify the burning of Harry Potter books. For example, they cite this passage from Acts:
Many of those who had practiced magic collected their books and burned them in front of everyone. So they calculated their value and found it to be fifty thousand pieces of silver.
And Deuteronomy:
Burn the images of their gods. Don't desire the silver or the gold that is on them and take it for yourself, or you will be trapped by it. That is detestable to the Lord your God.
In their Facebook post the Polish Priests declare:
We obey the Word
Commenting on the story, Associated Press reports:
The Catholic Church objects to "Harry Potter" books, which are international best-sellers, saying they promote sorcery.
Many mocked the Catholic priests for their ridiculous Facebook post about burning Harry Potter Books. One observer opined:
I have not met anyone yet who would rape, murder and steal in the name of Harry Potter. In the name of the Bible, yes. Bad news, gentlemen!
Another quoted the German poet Heinrich Heine, who wrote in 1823:
Where books are burned, in the end, people will also be burned.
Bottom line: Fearing magic and sorcery, Catholic priests in Poland are burning Harry Potter books.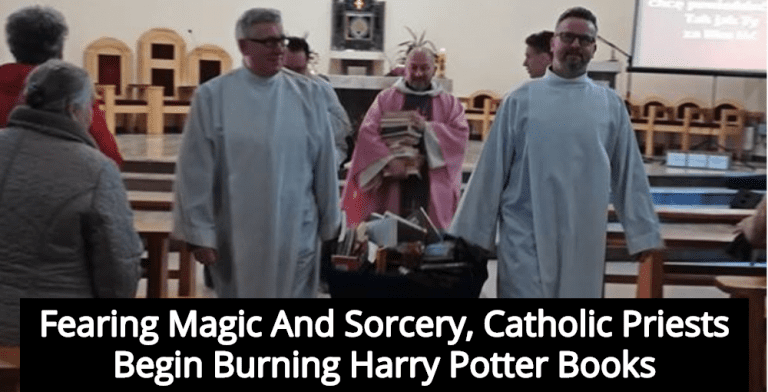 Catholic Priests In Poland Burn Harry Potter Books To Fight Magic (Image via Facebook)