Racist In Chief: Earlier today President Donald Trump retweeted a video of an elderly Trump supporter riding in a golf cart and screaming "White Power."
President Trump tweeted, "Thank you to the great people of The Villages" on Sunday morning in response to a video of protesters verbally clashing with Trump supporters — including one man who yelled "white power" while passing in a golf cart.
On Sunday morning — before making the 271st visit to one of his golf courses during his presidency — Donald Trump retweeted a video he said is from the Villages, a retirement community in Florida, in which a man driving a golf cart with Trump campaign posters is seen and heard yelling "white power."
In his retweet of the video, Trump declared:
Thank you to the great people of The Villages. The Radical Left Do Nothing Democrats will Fall in the Fall. Corrupt Joe is shot. See you soon!!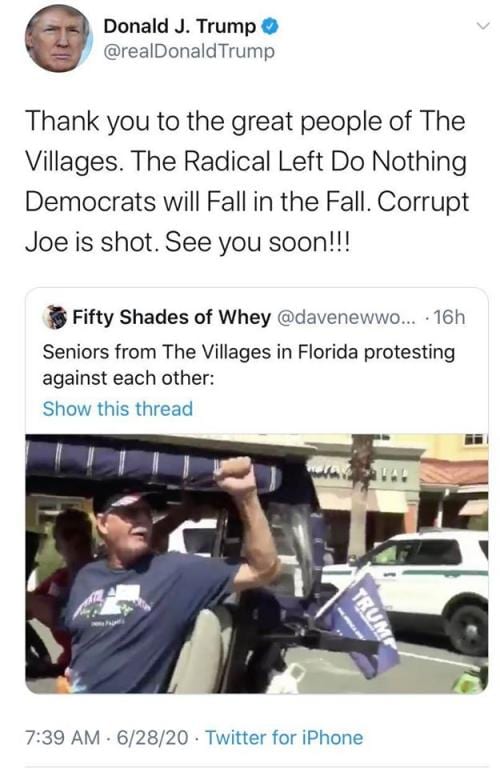 Seniors from The Villages in Florida protesting against each other: pic.twitter.com/Q3GRJCTjEW

— Fifty Shades of Whey (@davenewworld_2) June 27, 2020
CNN notes that the video Trump retweeted, and then deleted, "appears to be from a June 14 parade organized by the Villagers for Trump club."
In a statement, White House deputy press secretary Judd Deere issued a non apology after the repulsive retweet was taken down:
President Trump is a big fan of the Villages. He did not hear the one statement made on the video. What he did see was tremendous enthusiasm from his many supporters.
As one might imagine, many were quick to denounce Trump's racism. For example:
Today the President shared a video of people shouting "white power" and said they were "great." Just like he did after Charlottesville.

We're in a battle for the soul of the nation — and the President has picked a side. But make no mistake: it's a battle we will win.

— Joe Biden (@JoeBiden) June 28, 2020
President Trump, you can delete the tweet, but you can't delete your bigotry.

See you in November.

— The Lincoln Project (@ProjectLincoln) June 28, 2020
"He should not have retweeted and he should just take it down… It is indefensible," GOP Sen. Tim Scott reacts to the video President Trump shared of a man driving a golf cart with Trump campaign posters, chanting "white power." #CNNSOTU https://t.co/76wZzokkUw pic.twitter.com/4zk2rFndcP

— State of the Union (@CNNSotu) June 28, 2020
This isn't 'racially charged', 'racially tinged' or sparked by 'racial anxiety.'

This is racist, white supremacist language amplified by the President of the United States. https://t.co/CCjZsCnpef

— Julián Castro (@JulianCastro) June 28, 2020
Just when you think Trump cannot be more vile or racist, he outdoes himself. This morning he shared a video in which a supporter of his yells, "white power." Let us stand together and make certain that this "stable genius" is defeated, and defeated badly, in November.

— Bernie Sanders (@BernieSanders) June 28, 2020
Bottom line: President Donald Trump retweeted a video of an elderly Trump supporter riding in a golf cart and screaming "White Power."