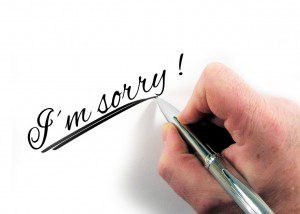 When I was growing up, I remember being taught about repentance. In fact, as I recall, repentance seemed to find its way into just about every youth group lesson my youth pastor gave. Repentance was what Christianity was all about in my conservative evangelical context. And it wasn't just that we should repent because it'd be good for us to do so. It was that if we didn't repent, God was gonna punish us in hell for all eternity. I even remember, for one of our youth group lessons, one of the young people in the group simply stood and read Charles Spurgeon's famous sermon, "Turn or Burn." That was the whole lesson.
And that's what repentance was. It was a "turning." Turning away from sin. Reversing direction on the default path toward hell and damnation.
When I was older, I rejected this view. I rejected the idea that Christianity was about escaping God's wrath. I rejected the idea that the "good news" was really the bad news that God was mad at me… even if Jesus wasn't. I rejected the implication that Christian spirituality was, basically, feeling really sorry about sin. I thought I was rejecting the idea of repentance.
But the problem with my evangelical upbringing wasn't actually that it was too much about repentance… it's that it wasn't enough about repentance.
See, the idea of repentance was never supposed to center around "turning away" from something. Repentance is actually about transformation. Metanoia, the Greek word that's usually translated as repentance, actually means something more like "healing." When John the Baptist, or Jesus, or Paul, or whoever, was inviting people into repentance, they were not nearly as focused on turning away from sin as my youth pastor was. Their focus was on the promise that awaited the person, the world. Their focus was not on what was gonna happen if you didn't repent but on what was at hand for those who did… "Repent, for the dominion of heaven has come near!"
Progressive Christianity, by and large, has rightly rejected the misguided view of repentance that I encountered in my conservative evangelical upbringing. It has rightly rejected the view that God is mad and repentance is necessary to quench God's thirst for wrath. It has recovered, I think, the heart of the gospel–namely, that God has come in Jesus Christ to love the world, not to condemn it (see John 3:16-17). But progressive Christianity, perhaps especially progressive youth ministry, would be mistaken to reject repentance.
In fact, repentance is essential to progressive Christianity. One can hardly be "progressive" without searching for transformation. We've already been about this… it's about time we name it.
When we see crushing injustice in the world and demand justice, when we organize and protest, we are inviting the world to repentance.
When we resist the normalization of misogyny and xenophobia in mainstream political discourse, we are inviting the world to repentance.
When we insist that the obnoxious and loud minority does not get to define the Christian faith for us, we are inviting the world to repentance.
But let's not make the same mistake that the conservative evangelicals made. Let's not stop at what we are turning from. Let's be clear that when we are turning, we are really returning to the God who created the world in love and came to us in Jesus Christ for the sake of its healing. Let's be clear that when we repent, we are turning ourselves toward, immersing ourselves in, the grace of this particular God who alone brings transformation, who alone brings love and justice.
(Repentance and redemption are themes of the 2017 Progressive Youth Ministry Conference. Check it out and get tickets here.)