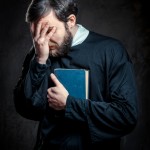 Welcome to Rational Doubt – with Voices from The Clergy Project
This is the public conversation area of a very private* online-support group for clergy who no longer hold supernatural beliefs. This public forum will allow people both to listen and participate; creating a dialogue between clergy and regular folks ("lay people" in church-talk) that is not easily available in real life.
Religion is a touchy subject. What clergy really believe is an even touchier subject – and a fascinating one.
A lot has been written lately about clergy who move away from faith:
The Rector Who Wouldn't Pray for Rain
Preachers Who Are Not Believers
Rational Doubt is an opportunity for open dialogue about this and other changes in the religious landscape. Whether your beliefs are firm or in transition, whether you are clergy, former clergy or non-clergy, please join the conversation.
Here on the blog, members and friends of The Clergy Project (TCP) will share their insights and experiences. You'll hear from clergy who are out of the closet and on to other careers and from non-believing clergy who are still preaching and still under cover. You'll also hear from TCP founders (e.g., Dan Barker, Richard Dawkins, Dan Dennett, "Adam" and "Chris") and other writers. While there is much dissent about what religion should be, no one denies that much is changing in religion today. Come here to find out what's going on with current and former religious leaders and to weigh in on the subject yourself.
We plan a variety of blog posts, presenting issues or posing questions to stimulate thought and conversation, and – who knows – perhaps to change the world!
*Please click here to learn more about the Clergy Project, to make press inquiries and to learn about or begin the application process to join the Project (if you are current or former non-believing clergy).
We'll start off the conversation asking about non-believing clergy's perspectives on doubt: In many religious denominations, doubts are accepted as part of the faith journey. The expectation is that faith will return even stronger than before. If you are a current or former pastor whose doubts led to ending your religious beliefs, what kinds of responses have you used with parishioners when they actively question their faith?