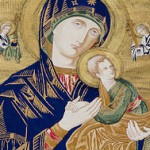 That's what I heard today while tuned in to live-streaming of the Drew Marshall Show in Toronto  – "Canada's most listened to Spiritual Talk Show."  Catherine Dunphy, a founding member of the Clergy Project and Operations Manager here at Rational Doubt, was a guest on the show, along with Thom Schultz, who offers "an innovative approach to ministry" and Paul Young, author of The Shack, Christian blockbuster bestselling novel.
I tuned in about 10 minutes into the show to hear everyone in cheery agreement, as the host praised the idea of a support group for non-believing clergy (The Clergy Project) and a blog (this one!) for doubters and non-believers to communicate with each other.
The host laughingly wondered why "the atheists" thought of these great ideas instead of Christians.  Also, one of the Christian guests described the Incarnation of Christ  – God becoming man – as a humanist concept. I don't know how many Christians think of it quite like that, but it sounds like a step in the right direction to me.
Catherine was quite convivial, as well as informative and provocative, which you'll be able to hear for yourself when we post the podcast link here in a couple of days.  Stay tuned!
photo credit: <a href="http://www.flickr.com/photos/paullew/7456601232/">Lawrence OP</a> via <a href="http://photopin.com">photopin</a> <a href="http://creativecommons.org/licenses/by-nc-nd/2.0/">cc</a>