Editor's Note: Chris Highland, like several other Clergy Project members, has made a career transition that allows him to keep the valuable, natural elements of his ministerial training while jettisoning the supernatural.
When I left my ordination after 14 years in the Presbyterian church in the fall of 2001, my silent and shocked colleagues listened to my statement and watched me walk out. Then they calmly followed the agenda into the evening's worship, while I went out for a beer with friends, several of whom are still active clergy.
My colleagues accepted my renunciation, because they knew nothing would essentially change for me. I would still be active as an interfaith chaplain, a teacher, writer and friend. It was a "natural" thing for me to do ­– leave the church and leave faith.
That same fall, my first book, Meditations of John Muir, was published. Collecting some words of wisdom from the writings of the great naturalist was a joy. John of the Mountains was emerging as a kind of "secular saint" for me. After working in schools, jails and streets as a chaplain for many years, I delighted in a more down-to-earth practice of spirituality that fit nicely into the radically inclusive model of chaplaincy I had grown for a long time.
For me, a chaplain goes where people are, no matter where they are, to practice a presence of compassion. A chaplain is a professional, ethical, responsible and knowledgeable person, who acts as a counselor, mediator and advocate when appropriate. A chaplain does not represent one sectarian group but represents basic humanity regardless of faith or no faith – a human being among human beings.
One great example of the ideal chaplain is Walt Whitman. He was never a chaplain but he was just about everything I seek to emulate in a chaplain.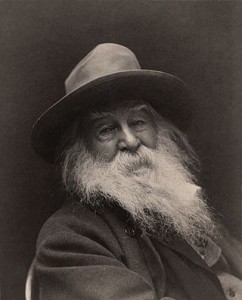 Walt Whitman was no preacher. He was a practitioner of the practical with poetic exuberance. However you may try to label him, whatever camp you try to stick him in, Whitman was plainly and simply a secular chaplain. When he was visiting wounded soldiers in Washington, D.C. during the Civil War, he had no agenda but to be with people no one else really wanted to be with, to listen and do whatever needed to be done: empty a bedpan, change a dressing, write a last letter home, recite a poem, play a game with the sick and sad. In his own words, he would provide "sympathetic nourishment . . . silently cheer them up . . .and adapt to emergencies. . ." No talk of heaven or hell, faith or church, north or south. It sounds like a very natural thing to do, doesn't it? It's natural and very, very difficult.
By my guidelines, there are few good chaplains (and I have often not reached my own goals very well). Most chaplains I have known are very sectarian, even when they say they are not. Few have a good understanding of a secular way of thinking and are unsure about how to handle atheists. Agnostics are fine, because they can be led to faith. This fails my test for a proper practice of chaplaincy. The military, prisons and streets are filled with preachers who pass as chaplains. The services, the penitentiaries, the shelters, the schools, are merely a mission for a particular gospel, faith and god. This makes me sad, when it doesn't make me mad! How dare they dump their theological stuff on vulnerable people! Shame on them. Chaplains can be so much better, so much more effective than that.
I do know some good ones. I know chaplains who will assist anyone without regard to faith perspective, who will sit with anyone and pray or not, talk or not, read from any scripture or not. In the very liberal area where I live there are hundreds of seminary-trained, interfaith-sensitive people running around.
So many of us who survived the cold tombs of theology and have officiated at the memorial for the Church, find ourselves in unusual places learning to adapt.
Here's the secret: you don't have to call yourself a secular chaplain to practice this. That's what makes it natural, naturally meaningful and relevant. Do what Walt did. Go where your listening ear and caring heart are most needed. Do what some of the great spiritual teachers did (minus the supernatural distraction). Do what needs to be done. Do the right thing.
This year I'm teaching three semesters in Literature and Humanities at the College of Marin. The course is called "A Wild Spirituality of Nature: On the Trail with John Muir and John Burroughs" and it's open to both theists and nontheists. You see I still use the word, "spirituality" (in a Carl Sagan way). But students find along their intellectual hike with these naturalists that all terms have been redefined. We're left in the wilderness of freethought and discovery! We hear the wild gospel (Torah, gita, dharma, Qur'an, science text) that calls to us as Secular Chaplain Muir preached it:
"The natural and common is more truly marvelous and mysterious than the so-called supernatural. Indeed most of the miracles we hear of are infinitely less wonderful than the commonest of natural phenomena, when fairly seen."
~John Muir, My First Summer in the Sierra (1911)
A secular chaplain is privileged to saunter out into the wilderness to welcome the natural and common and to step straight into the middle of that marvelous forest of wonder!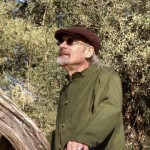 Chris Highland served as an Interfaith Chaplain for 25 years. In 2001 he left his Christian ordination and "came out" as a non-theist freethinker. He is a teacher, writer, housing manager and a member of the Speakers' Bureau of the Secular Student Alliance. Chris is the author of ten books (See the listing in the Books and Publications tab) and host of Secular Chaplain. Originally from Seattle, he lives in the San Francisco Bay Area with his wife Carol, director of the Marin Interfaith Council.
Photo Credits http://en.wikipedia.org/wiki/John_Muir_Trail#mediaviewer/File:JMT_collage.pnghttp://en.wikipedia.org/wiki/Walt_Whitman#mediaviewer/File:Walt_Whitman_-_George_Collins_Cox.jpg Attribution: Adam Cuerden
6/24/14 Several small edits in the text have been made at the request of the author.
//