Editor's Note: After writing about Rev. John Shuck's efforts regarding Evolution Sunday last week, I invited him to speak for himself – and he did! Please read what he has to say. I think he's the future of the liberal church –if the church has a future.
================================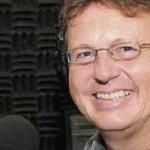 I am a minister in the Presbyterian Church (USA). I am happy to be one. Even as I have been quite public that I do not hold supernatural beliefs, the church hasn't defrocked me. It is a thoughtful denomination. It is ahead of many other denominations on social justice questions. It is not opposed to higher criticism of the Bible. It is not anti-evolution.
It does not however embrace evolutionary science or higher criticism of the Bible. In my view, it tolerates these academic fields and covers them over with a thick theological veil. For instance evolution must be addressed (if can be addressed at all) in terms of "God" and "Creation." The Bible – no matter what criticism is leveled at it – still is "God's Word."
In the meantime, anti-scientific attitudes are creating a serious social problem. My denomination has historically been a leader in promoting public education and responding positively to social ills. It should be a no-brainer for the PCUSA to say "yes" clearly and unequivocally to evolution at every General Assembly and "no" to creationism in all of its guises. The last time the PCUSA addressed evolution was in 2002. They made this statement:
The 214th General Assembly of the Presbyterian Church (USA) has stated that it
Reaffirms that God is Creator, in accordance with the witness of Scripture and the Reformed Confessions.
Reaffirms that there is no contradiction between an evolutionary theory of human origins and the doctrine of God as Creator.
Encourages State Boards of Education across the nation to establish standards for science education in public schools based on the most reliable content of scientific knowledge as determined by the scientific community.
Calls upon Presbyterian scientists and scientific educators to assist congregations, presbyteries, and the public to understand what constitutes reliable knowledge.
It is certainly time for an upgrade especially as our culture is besieged by anti-scientific views. Mainline churches can assist science educators by adding their voice and influence for science, especially evolution – as this is where the cultural battle rages. We need to do this publically and repeatedly.
My resolution to ask the denomination to endorse The Clergy Letter Project and Evolution Sunday was solidly trounced by the Theological Issues Committee, 47-2. I wrote about it here http://www.shuckandjive.xyz/2014/07/can-we-talk-about-science.html and here http://www.shuckandjive.xyz/2014/06/evolution-resolution.html . Why did it fail? There were objections to adding a day to the church calendar. Perhaps if it had come from two concurring presbyteries rather than just me, it would have had more weight. Fine. Many reasons have been offered for my resolution's defeat that I find to be red herrings. If you don't want to do something, one excuse is as good as another. Nevertheless if any perceived errors were fixed and folks with nuanced political finesse were to submit something similar again, it might get a better showing. I'll choose to remain hopeful. The bigger question is this: Why is evolution not on our church's agenda?
What I find distressing is that the most amazing and foundational scientific discovery has gone not only unheralded but also mostly unacknowledged by my beloved Presbyterians. I get the message that evolution is just not our business. The problem is the theological veil. It seems that my denomination feels that it must figure out the evolution problem theologically before it can endorse evolution. Because church theologians cannot reconcile a scientific process that needs no supernatural design, creation, intrusion or purpose with theological notions of agency, they have nothing to say. The best they can come up with is this statement:
Reaffirms that there is no contradiction between an evolutionary theory of human origins and the doctrine of God as Creator.
I'll let the reader muse over that. The bottom line is that the church needs to embrace evolution at every opportunity. As it does so, it can encourage creativity regarding meaning and human flourishing. Endorse reality first then explore possible meanings. Embrace evolution now and do the theology in response to this foundational truth. As we might suspect, once we embrace the world that science is showing us, our theological doctrines will by necessity change. That is what the church fears and resists.
Nonetheless, I remain hopeful and I remain engaged. Over 15,000 clergy have signed the Clergy Letter. That is a sign of hope. Many creative congregations such as the one I presently serve embrace our grand evolutionary and cosmic story in worship and practice. My hope for my denomination is that it will tear down the theological veil that keeps it from confronting reality. As the veil is removed, we will be able to see our natural world as it is and then use the religious skills we have honed over the centuries to help humanity celebrate and care for Earth with poetry, song, liturgy and community.
========================
John Shuck has been a minister in the Presbyterian Church (USA) for 21 years. He is the currently the pastor of the First Presbyterian Church of Elizabethton, Tennessee. He is a member of the coordinating team for Presbyterian Voices for Justice. He is a founding member of The Clergy Project and he hosts a radio program, Religion For Life that explores the intersection of religion, social justice, and public life.