Editor's Note: Former Rabbi Levin reflects on his life as an observant Jew via his experiences with and without a "Kippah."   We hope to hear more from him as he continues to adapt to secular life.  He left his congregation earlier this summer.
==========================

A kippah is a head covering worn by Orthodox Jewish males at all times. Kippahs vary by religious sub group. For some, their kippah is a black hat. For others, a circle of fabric held on with clips. When I was a Rabbi I wore larger, embroidered caps I purchased in Jerusalem. Now that I've quit the Rabbinate, they're gathering dust in my dresser drawer.
I grew up in a home that's Jewishly observant but not strictly Orthodox.  So when I was a teenager, I started wearing a kippah all the time, except when I was in religious school. To wear a kippah all the time was a difficult decision for me to make. It meant standing out from peers and inviting the world to regard me with a range of prejudice and skepticism that I had an inkling of but didn't yet understand.
How did I feel then, walking around with a conspicuous embroidered disk pinned to my hair? Nervous and uncomfortable. But I was also proud that I had the courage to take such a bold plunge.
My self-consciousness was eased by the praise and encouragement of religious teachers and synagogue youth group leaders. I may even have begun to feel a bit superior to some of my more conformist peers. But the strongest feeling I recall is of feeling exhilaratingly different, in a way that I felt certain was good.
After that I studied six years in yeshiva to receive ordination and then served as a Rabbi for fifteen. While I'm happy for those who find joy in the Orthodox Jewish lifestyle, I've come now to realize that it isn't for me. I think the belief that a God in heaven demands that we meticulously follow numerous, often nitpicking commandments under promise of high reward or threat of harsh punishment is false, misguided and often causes harm.
So back to the question: How does it feel not to wear a kippah?
It's a relief to no longer be claiming, just through my dress, that my lifestyle choices are better than others.
I don't know more than anyone else about good and evil, right and wrong or what happens after we die. I have no extra insights based on faith or revelation. Removing that weight feels good.
The biggest change is to have come full circle from my teenage years. I no longer feel different. Perhaps then I was seeking companionship in a tight knit religious community and omnipresent God. I no longer have that, but now it's easier for me to connect with the diverse world of people around me. I think that's a good switch.
==========================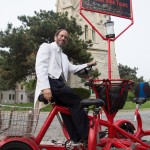 Bio:  Shlomo Levin served for 15 years as an orthodox Rabbi, during which time he realized that adherence to Torah and Jewish law often does more harm than good. While he completes his first two novels he is ready to help develop and officiate at humanist life cycle celebrations. He also offers tours of Milwaukee on round, seven seat bikes.
Photo Credit https://www.flickr.com/photos/zeevveez/7620152880/