Editor's Note: Our favorite "post-supernaturalist follower of Jesus, the first century wisdom teacher" is back. This time he comes with news about communities of the historic, human Jesus. I think it sounds like humanism for Jesus aficionados. See what you think.
=============================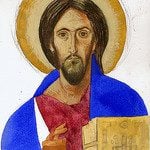 By Mark Rutledge
I was recently asked to speak to a group of clergy on "doubt" as related to young adults and the church. I framed the issue in terms of the journey I've been on before and since joining the Clergy Project several years ago. The issue also came up last May in a Rational Doubt post, in which I said that once I left all supernatural beliefs behind, there was still something left worth calling, "Christian." Some readers wondered what that was—here is part of my answer.
I think I may be moving toward a perspective I'll call "trust." As one who still calls himself Christian, I don't think Christianity requires believing the right things, but it does involve several important elements of trust or faith:
Living in trust under the mystery of meaning which surrounds us;
Following the historical, human Jesus—living in his vision of the Kingdom of God on earth and updating it for our time;
Living as if the arc of the universe really does bend toward love and justice;
Living in daily awareness of the unity of all beings;
Joining the unending conversation which defines the church throughout its history—reforming and always reforming;
Living faithfully/trustfully as expressed through our ethics, how we live, who we are and what we do.
I am aware that not all churches see things this way and that more and more people have no interest in identifying themselves as Christian. But for those of us who do, one of the most important decisions one can make is with which church (or humanist) community to connect and how that gathering is constituted. Since I still identify as a Christian (maybe a secular one), I think churches of the future should honor a diversity of beliefs among members.
Here are some marks of emerging churches of the future which I affirm and which are currently being formed, so this is not just hypothetical: There is a growing network of communities of the historical, human Jesus, based neither on belief or disbelief. Each community intentionally designs its own renewable covenants, which create and sustain it. For example, David Galston, author of the new book, Embracing the Human Jesus, is animating one such community in Canada. While Galston is a Jesus follower, he makes clear his benign attitude toward atheism:
"I would remind the reader that I am not a critic of atheism. In fact, I think we live in an era of post-atheism. We have to accept the conclusions of atheism and move forward with new forms of human spirituality that are not inconsistent with our best knowledge about the origins of life and the nature of the universe." (footnote, p.216.)
A few characteristics of these historical, human Jesus communities, as I am coming to understand them, are:
Pondering the enigmatic parables of the human Jesus as a teacher of wisdom by becoming his students, bringing his vision into the 21st century, working it out as we go along and/or making it up
Becoming learning communities because the only way of reaching the historical Jesus is through analytical study of the Bible
Forming systemic arrangements to care for each other, our community and our world
Re-imagining patriarchal traditions through feminist lenses, interpretations and challenges
Drawing on resources from the world's enduring religious traditions that contribute to our journey
Gathering to learn, study, sing, meditate, reflect and eat together in the spirit of the inclusive meals of the historical Jesus
Integrating action and contemplation
Planning and designing the practical logistics for creating beloved communities
Joining the unending conversation that IS the church through its history
Justice and love are also important marks of such historical Jesus communities. Just one concrete example is the Moral Mondays movement for social justice. It started in 2013 where I live in North Carolina and is now spreading to other states throughout the country. The Moral Mondays movement stages protests in response to repressive actions by an extremist, right-wing state government which are characterized by engaging in civil disobedience by peacefully entering the state legislature and then being arrested. The protests include a coalition of many religious, secular, civic and social organizations organized by William Barber, a Christian minister and head of the state NAACP. Emerging historical Jesus communities are expected to be part of these kinds of activities.
As actors in this "cosmic theatre" of the world, we should play our part as best we can. The essential element is solidarity on the path of wisdom.
=======================
Bio: During the past 52 years, Mark Rutledge has been a United Church of Christ campus minister on five different university campuses in California, Iowa, Illinois, New Mexico and now in North Carolina at Duke University. He attended Oberlin College and the University of California at Berkeley and received an M.Div. from Pacific School of Religion and a doctorate in Clinical Psychology from Northern Illinois University. He is an Associate Member of the Jesus Seminar and was "Rick" in the Dennett-LaScola study of non-believing clergy.
photo credit: <a href="https://www.flickr.com/photos/duckmarx/318143091/">DUCKMARX</a> via <a href="http://photopin.com">photopin</a> <a href="http://creativecommons.org/licenses/by-nc-nd/2.0/">cc</a>