Editor's Note: This is a updated version of a blog post on religious leaders' support of LQBTQ teens that was written four years ago by a Humanistic Rabbi.  It is reprinted here with permission. 
=============================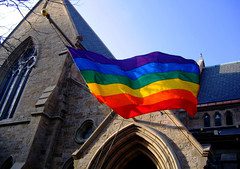 By Jeffrey L. Falick
Several years ago, I wrote on my blog about the high rate of LGBTQ teen suicides. At the time I was impressed by the number of compassionate reactions by religious leaders. There was a certain amount of breast-beating and even a bit of guilt.   Many religious leaders sought ways to accommodate and even welcome LGBTQ people into their fold, citing their scriptural traditions of love and kindness.
Last year at around this time, I was invited to a demonstration at Detroit's federal courthouse on the eve of Michigan's hearing on the constitutionality of its ban on same-sex marriage. Once again I was joined by sympathetic liberal clergy who preached passionately about God's love for LGBTQ people. Once again I was impressed with their commitment to equal rights for all.
What did not impress me, however, was liberal clergy's reliance upon their various scriptures to justify their newfound openness to all things gay.  Because the obvious problem with this is that the homophobes cite those very same scriptures to justify their antagonism to gay rights. For many people this can be enormously confusing.
Which is it?
Does the Bible condemn homosexuals or does it call upon society to accept and love them just as they are?

Does the Bible teach that heterosexual marriage alone should be recognized by the state or does it encourage us to follow our own hearts and orientations to a life of committed partnership?
There is an exegetical battle taking place over this issue with each side claiming biblical authority for its position.  And this just underscores the underlying problem of using the bible as a source of our values.  An ancient literary collection can no longer fill that need. It is simply not up to the task.
In ancient and medieval times the scriptures were regarded as the word of God. But any honest historian of religion knows that even then moral reasoning did not really depend upon the text. In Judaism we find evidence of this in the sharp rabbinical reinterpretations of certain very clear scriptural injunctions at various junctures in history. Though they were obliviously unconscious of this evolution in their thinking, it's undeniable that when they felt that something in the Bible was clearly outdated, they instituted a revised understanding. They did it when they interpreted the lex talionis ("an eye for an eye") out of existence and they've it done with hundreds of rules ever since.
But what was good for pre-modern people is not worthy of us today when we have become entirely conscious of this process.  
Attempts to make scriptures say what they clearly do not say are a relic of a time when we needed to believe that these writings were the word of God, not the opinion of men (always men).
So while I certainly appreciate the efforts of those who seek a more humane exegesis, these attempts to salvage their texts as the inspired word of God are grossly misplaced. Scriptures are not a source of modern wisdom. They are a repository of outdated morality.
I wish that these liberal religious thinkers would come to the realization that the problem does not lie with how we interpret the book.  The problem is the book.
============================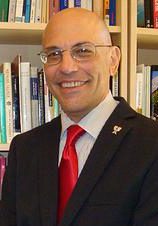 Bio: Jeffrey L. Falick is the rabbi of The Birmingham Temple Congregation for Humanistic Judaism in Farmington Hills, Michigan. Ordained by the (theistic) Reform Jewish movement, he later became associated with Secular Humanistic Judaism, an approach that combines adherence to nontheism with a celebration of Jewish culture and life. He serves as president of the Association of Humanistic Rabbis and on the Executive Committee of the Society for Humanistic Judaism.  He is also a member of The Clergy Project.
photo credit: <a href="https://www.flickr.com/photos/b-tal/65347879/">B Tal</a> via <a href="http://photopin.com">photopin</a> <a href="http://creativecommons.org/licenses/by-nc/2.0/">cc</a>