Editor's Note: This former Catholic parish priest lived his vocation intensely and just as intensely decried the abuses he found in the Church as he became more involved and knowledgeable. Like Mary Johnson, the nun, his transition was not complete until after he left religious life. He is the last in our series of four Roman Catholic clergy whose doubts led to disbelief.
==========================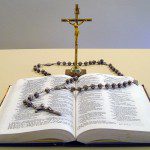 By Tom Rastrelli
1. What caused you to start seriously doubting your faith?
I always asked hard questions about Catholic teachings, history and praxis. "You can't ask that," fellow seminarians would say to me, but I thought I had to ask hard questions so I could respond intelligently to future parishioners. I struggled to suspend my disbelief about teachings such as the Immaculate Conception and virgin birth. My doubt concerning faith in the institution of the church and college of bishops came with the advent of the sexual abuse crisis in January 2002. It was six months before my ordination. I was a victim of childhood sexual abuse (not by a priest). Reading reports about bishops covering up sexual abuse made me doubt the entire structure of the church and my vocation. I still was ordained in June 2002, because my spiritual director and counselor advised me not "to make life-changing decisions while in desolation." They advised me that the doubt would pass. It didn't.
2. How did you initially react to the doubts? (e.g., discuss them with others, keep them to yourself, do religious or secular reading, something else?)
I rationalized away my doubt and disagreement with church teachings, telling myself what my seminary professors had drilled into my brain: "I was ordained to teach the church's beliefs, not my own. The truth is bigger than my doubt." I learned quickly that my clergy friends and spiritual advisers didn't want to hear about my doubts. I even lost some close friendships because of my questioning. I turned to reading books and blogs. I also got a therapist that was not a white, male, in-the-closet gay priest or monk. I hired a Lutheran therapist and after that a female therapist. These two therapists existed outside of the clerical power structure and had nothing to lose by allowing me to think and speak freely.
3. What caused the doubts to start becoming stronger than your beliefs?
In part it was the constant barrage of abusive statements equating homosexuality and pedophilia made against gay men by bishops who were gay or rumored to be gay. I was also influenced by the bishops' hypocrisy and rationalization of covering up sexual abuse and putting children repeatedly in danger rather than turning abusive clerics over to the police. This moved me to question the entire structure and my place it in. I didn't want to be a collaborator in an institution that endangered children in "God's" name. Also, seeing the corruption firsthand ripped "the scales from my eyes" about the 2,000 years of corruption, war and torture in the name of "God" and "Holy Mother Church" that I'd learned about in my historical, scriptural and theological studies.
4. How did the doubts affect your preaching/teaching/other responsibilities and interactions with your congregation and your family?
I focused on teaching the "positive" teaching about love, forgiveness and community at the expense the teachings about judgment, condemnation and self-mortification. My interactions with my congregation grew more compassionate, as many of us shared the same doubts and struggles.
5. How did you come to the realization that your doubts were overcoming your beliefs; that you were no longer a believer?
After ordination, I returned to my home archdiocese. As a result of witnessing the local corruption of cover up of sexual and other abuses by clergy, I completely lost my faith in the authority of the church.
6. How did you think of yourself at that time (e.g., agnostic, atheist, spiritual-but-not-religious, non-believer, different-believer, something else?
I left the priesthood a few months after losing faith in the church, thinking of myself as an agnostic. Once out of the priesthood, I began applying cognitive behavior therapy to my faith by unmaking the distortions that I had been taught about "God." Within months, I claimed being an atheist. It was a positive thing that gave me more peace that religion had.
7. Anything else you would like to say that is not contained in these questions?
If you're doubting your faith and beating up on yourself for it, seek people will listen to you and allow you to work through your doubt and difficult questioning without shaming you. You deserve to figure out what you believe freely, without the baggage of someone else limiting you.

===================
Bio: Tom Rastrelli is a graduate of the University of Southern California's Master of Professional Writing program. Some previously held jobs that inform his writing include Catholic priest, janitor, actor, yard man, wedding singer, grant writer and research assistant in HIV-prevention among meth addicts. He also has a B.A. in Theater Arts and a Master of Divinity. Tom is currently the arts and culture reporter at the Statesman Journal in Salem, Ore. If he could figure out how to sing in print, he would. For more of Tom's writing concerning his priesthood experience, go to http://www.huffingtonpost.com/tom-rastrelli/.
=====================
Photo credits: http://commons.wikimedia.org/wiki/File%3AThebible33.jpg
File URL: http://upload.wikimedia.org/wikipedia/commons/3/31/Thebible33.jpg
Attribution:By Issagm at en.wikipedia (Transferred from en.wikipedia) [GFDL (www.gnu.org/copyleft/fdl.html) or CC-BY-SA-3.0 (http://creativecommons.org/licenses/by-sa/3.0/)], from Wikimedia CommonsHTML