Editor's Note: The last essay in our Easter series is by a mainline Protestant pastor who recently and gratefully left the pulpit after too many years of parish ministry. In this reflection on Easters past, I think he sounds frustrated, cynical, a bit obsessive, and ultimately relieved. What do you think?
======================
By Former Pastor X
How far in advance do you start planning for your Easter sermon? How did you feel as you're preparing the sermon and then giving the sermon?
Easter Sunday is an occasion that stirs up a broad range of feelings for preachers. Along with Christmas, it was a time when I usually put an inordinate amount of pressure on myself to come up with a message that would resonate with the C and E (Christmas and Easter) visitors. You would not believe how much time I spent on the internet, trying to come up with a YouTube clip or some kind of gimmick that would entertain people and draw a few laughs or tears.

Clearly, at least 50% of those present on Easter Sunday or Christmas Eve are in church because, somewhere along the line, they either participated in church with their families or it just seems like a good thing to do; sort of like tourists checking out a museum that includes the lighting of candles while everyone sings their favorite great old hymns. Who can argue against lovely Spring flowers, upbeat music and an expensive brunch after church? No one would want to miss it — the brunch, that is.

The reality is that no matter what a preacher says on Easter Sunday, virtually none of the occasional visitors who come with their family or friends will return to church until the following Christmas and after that, perhaps the following Easter.

Because I never thought I could preach a sermon that would be good enough to bring people back the next Sunday – even though I knew they wouldn't be back no matter how good the sermon was – I would sweat for all of Holy Week, yet not begin writing my Easter sermon until Saturday morning. Often, I would write out an entire fifteen-minute sermon, print it and take it home to practice. Then when Sunday morning rolled around, I would throw it away, scratch out a few notes and preach the Sunday morning version of the sermon without notes or much preparation.

My wife would tell you that I was insufferable during Holy Week and the week before Christmas. Even though I was aware of this, I wasn't able to fend off the feelings of aggravation, anxiety and even fear that I would blow it on the big occasion.

In retrospect, I could have spared myself a lot of stress and worry if I had allowed myself to rest in the knowledge that what I preached on Easter Sunday had virtually no impact on my relationship with the congregations I served. As long we sang familiar old hymns, the service was well done and I didn't stumble, all would be well.
Give some examples of how your sermons changed as your beliefs changed?
The more progressive/liberal/anti-supernatural my beliefs became, the more I focused on the idea that the new life of Easter is not about believing the right thing now, in order to escape hell and go to heaven later. I focused more on what Rudolph Bultmann

called "realized eschatology" – the idea that eternal life is here and now, and only here and now. This life is not a dress rehearsal; it's all we get and eternal life means life with God in this existence, period. There is nothing "out there" or "up there" that will be experienced after this life. I didn't use the term "realized eschatology" or mention Bultmann's name, of course.

On a number of Easter Sundays, I used a quote by Clarence Jordan, the Baptist pastor and leader of Koinonia Farms in southwest Georgia (http://www.koinoniapartners.org/clarence/) who once said,

"The proof that God raised Jesus from the dead is not the empty tomb, but the full hearts of his transformed disciples. The crowning evidence that he lives is not a vacant grave, but a spirit-filled fellowship. Not a rolled-away stone, but a carried-away church."

Jordan's words,

"not the empty tomb…not a vacant grave…not a rolled away stone…

a carried away church

gave me room to talk about the importance of living Easter lives characterized by loving God and loving our neighbor; living in a way that we are carried away by the promise of a world that is characterized by unconditional love, welcoming the stranger, etc.

Jordan's quote also allowed me to say that I did not believe in a literal resurrection without saying it directly. I mean, who can argue with the idea of having a church that is carried away and enthusiastic about a vision that includes all people; a vision of the kingdom of God that is fully here now?
What kinds of responses have you gotten from the congregation about your Easter sermons?
The majority of people who came through the greeting line on either Easter Sunday or Christmas Eve were in a good mood and either said nothing about the sermon or something like, "Thank you, Pastor. I appreciated your message today." In other words, not much of anything.

If people from my book study were there on Easter Sunday, they would come through the greeting line and whisper something like, "I knew exactly what you were saying today. Thank you for having the courage to put some progressive ideas out there." While I appreciated their encouragement and affirmation, I was absolutely convinced that most of the people who were in attendance slept (literally, in some cases) through the entire service, punched their Easter Sunday card, and went on with their lives; never to be seen again, until, perhaps, next Easter.
How did you feel when Easter was over?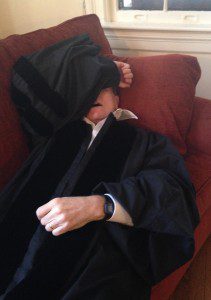 I felt exhausted; intellectually; emotionally; physically and spiritually. When I had the opportunity, I would go home following the three Easter services that our congregation had, have dinner with my family and then take a long nap.

One of the things that I observed over the years was that the more liberal, progressive, unorthodox and anti-supernatural my convictions became, the more exhausted I was at the end of pretty much every Sunday morning that I preached. It wasn't just Easter and Christmas Eve that left me exhausted, as had been the case earlier in my career. Without psychoanalyzing myself too much, I now believe that the exhaustion was the result of a growing experience of cognitive dissonance. It's difficult to feel publicly committed to preach a message that passes the orthodoxy test, while moving more and more toward theological convictions that are heterodox. Having said this, no one ever called for my professional head on a platter. Perhaps there are far more church members than we know about who quietly have the same theological convictions that I do.
Editor's Question: What do you think? Are there a lot of church members who don't believe in the supernatural either?
>>>>>>>>>>>>
Photo Credits:
http://upload.wikimedia.org/wikipedia/commons/a/a0/Rudolf_Bultmann_Portrait.jpg
Napping Pastor, by Linda LaScola