Editor's Note: Vacation Bible School ain't what it used to be – it's online and it doesn't stick to the old script.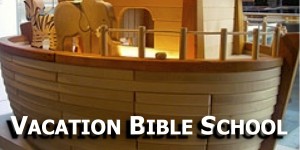 You can't count on God and Jesus coming out looking like good guys and there might even be a bit of what a traditional VBS teacher would call "blasphemy."   One thing you can count on is that we will not be telling ancient stories as if they are factual.   All the "lessons" come from contributors to the blog who were asked to choose among questions and issues that Catherine Dunphy put together. (Her graduate Jesuit education really came in handy!) We got a lot of good responses and you'll be seeing them in the weeks to come. There's still time to contribute, so please send your responses to doubtisrational (at) gmail (dot) come. Here are the questions that clergy contributors will be addressing:
1. Morality
1 Corinthians 15:32-34 New Revised Standard Version Catholic Edition (NRSVCE)
32 If with merely human hopes I fought with wild animals at Ephesus, what would I have gained by it? If the dead are not raised,
"Let us eat and drink,
 for tomorrow we die."
33 Do not be deceived: "Bad company ruins good morals."
34 Come to a sober and right mind, and sin no more; for some people have no knowledge of God. I say this to your shame.
Though many people think that morality comes from God, the Bible for the most part, it speaks very little about "morality" as we think of it and says nothing at all about the topic or even the word "ethics."  "What!" you say, "I thought that was the very point of the "good book."
When people talk about morality in the Bible, they very often think of the Ten Commandments, or the Beatitudes, which are both heavy on the side of worship, but less so on good action.
What type of morality do you think exists in the Bible and how do you think it relates (or not) to the current understanding of ethics, morality, social justice and human rights?
2. Sin, Sinner, Sinfulness 
The three "S's" of the bible – a trinity of sorts that is utilized repetitively throughout the Old and New Testament.  Variations of the word Sin are found over 1,000 times in the Bible, when the word love is only mentioned about 600 times.   It seems Yahweh is preoccupied with offense.
Looking at Romans 1:26-28 [New Revised Standard Version Catholic Edition (NRSVCE)] 26 For this reason God gave them up to degrading passions. Their women exchanged natural intercourse for unnatural, 27 and in the same way also the men, giving up natural intercourse with women, were consumed with passion for one another. Men committed shameless acts with men and received in their own persons the due penalty for their error.
28 And since they did not see fit to acknowledge God, God gave them up to a debased mind and to things that should not be done.
How do you think Christianity can reconcile homophobic scripture with universalism?  What's your take on this re-visioning of Yahweh?
3. The Problem of Evil
What's your favorite Christian Defense against the Problem of Evil?
4. "Sitz im Leben"  (Pick your own scripture)
Address the search for the historical Jesus:  Is Jesus still relevant or is has he been eclipsed by the Christ – the mythical gnostic figure that Christians really worship?  What's your take on this dualism?
5. Embarrassment
The criterion of dissimilarity:  Do you have a favorite saying of Jesus that embarrassed his followers, if so, what is it and why do you find it embarrassing?
(e.g., When Jesus says that he did not come to bring peace but division)
6. Ancient Near Eastern Myths
What's your favorite story and why? e.g., Enuma Elish and the Epic of Gilgamesh.  Can you find parallels in the Bible?
**Editor's Question** What to YOU have to say about one or more of the issues above? Either write about it in the comments below or send a short essay (500-1,000 words) to doubtisrational (at) gmail (dot) com as a submission for a blog post.
>>>photo credits: href="https://www.flickr.com/photos/alanenglish/584404692/">Al_HikesAZphotopincc