In my recent travels, I've come upon several churches that have been repurposed to adapt to changing times and needs. France is full of lovely old churches finding new ways to serve their communities.
Here's the Sainte Marie Church in Sarlat-La-Caneda that was first built in the 12th century. (Ignore the hunched gremlin in the corner.)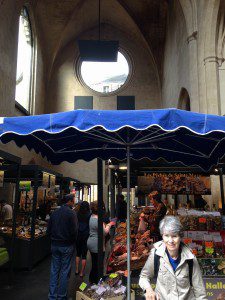 It has served as a weapons factory, a health center, post office and for the last 15 years as a marketplace. It was great fun finding it on a stroll through town and seeing how this huge space is being put to good use, nourishing bodies instead of (non-existent) souls.
In St. Remy, where Van Gogh lived and painted for a while, this little church is being used to display art by modern painters and to announce community events.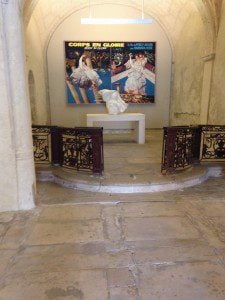 In the lovely southern hill town of Gordes, this quaint structure in the center of town looks just like the church it once was, but it is now an art gallery.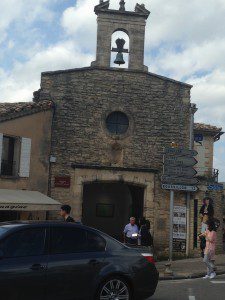 Back in the USA, I recently visited a former church that I'd been hearing about for several years, The Church Brew Works in Pittsburgh. It started out as St. John the Baptist Roman Catholic Church in 1902 as a parish for the huge number of workers and their families in the city's fast growing industrial economy. The Dioceses closed it in 1993 and it reopened as a restaurant and brewery three years later. The place is really thriving! If I'd known it would be so busy, I would have made reservations. As it was, I just went in to take a few pictures. Here's a photo of the altar. No more turning water into wine. This is real beer, being brewed on the spot.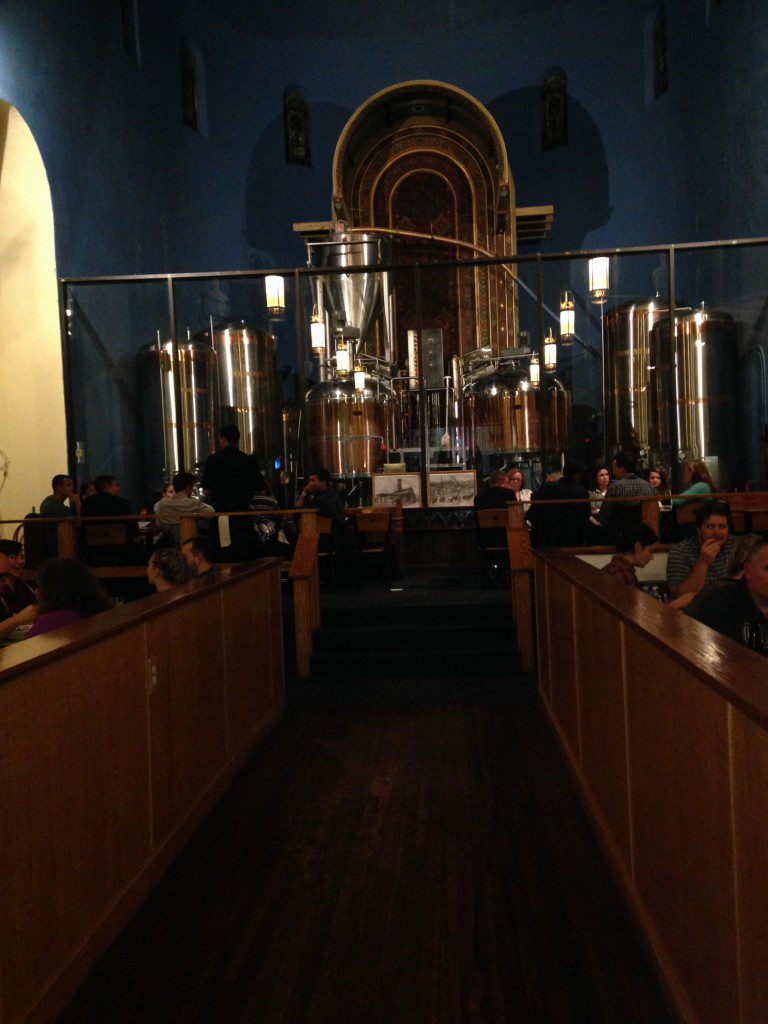 And check out this fresco in which a cherub is raising a cup.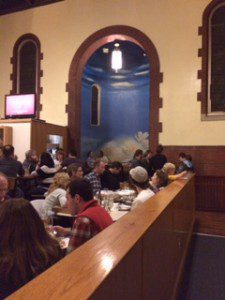 Pittsburgh, like many urban and rural areas, is closing a lot of its churches for lack of members. But resourceful people are finding all sorts of new uses for them.
Think for a minute – What creative uses have you seen for abandoned churches?
Use your imagination – What could churches be used for in the future, as the "nones" continue to grow and more people leave organized religion?
=========================
>>>Photo Credits: Linda LaScola and Carolyn Klatka Reynolds