Editor's Note: Andy, an active UCC pastor gives a no-holds-barred rendition of the Christmas sermon he would give if he felt he could be totally up-front about his beliefs and could tell his congregation what he thinks they should know. He says that he has come pretty close to this already. I don't doubt it. I've heard similar stuff in other liberal churches.
======================
By "Andy" Atheist UCC Pastor
A star guiding Magi to the manger in Bethlehem—ridiculous! What a joke.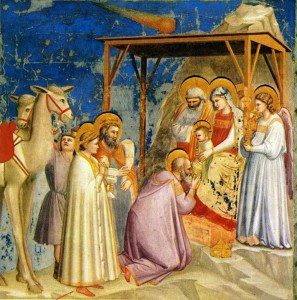 Fact is, some modern progressive Jesus scholars claim the story was even meant to be taken as a joke when it was first narrated, a way of poking fun at the outlandish astrological signs (pictured above as a comet) associated with the birth of Roman Emperors. I'm not so sure about that. To the pre-scientific world of the first century, stars were specs of light affixed to a canopy not far off the surface of the earth. It's not such a leap, from that perspective, to think that one of them, a particularly bright star, could designate the location of another king, that being Christ.
In any case, whether the ancients took the story as a spoof or as historical reality, I claim my right to call it a joke, a remnant of a religious thought-world that simply doesn't work for me anymore. Imagine for a moment–given our enlightened, modern understanding of stars as molten suns. For such a body to be able to identify a specific street address (or manger), the star would have to be so close to the earth that it would incinerate everything—including the baby Jesus! It's just ludicrous.
From this I deduce the underlying psychosocial dynamic at work in all miracle stories:
Humans are supremely important, so important, in fact, that nature must accommodate human needs and desires.
Is this not the motif behind all miracle stories in the Bible? Something special about humanity has to happen, so God interrupts the laws of physics to aid humans:
Parting of the Red Sea for a clever escape from Egypt
The sun 'standing still' to effect Israelite victory
A flood to wipe out evil (and an ark to save the righteous few)
A virgin conception/birth to send a Messiah
In the age-old philosophical debate as to which is more important, nature or culture, I vote with nature!
Diogenes of Sinope and the Cynics are my heroes!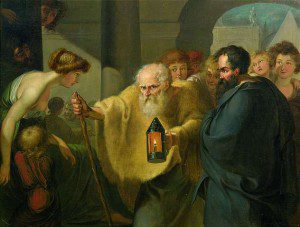 Humanity is not above nature, or even distinct from nature; we are a part of it. We swim in it; we bend to it; we obey its norms. The idea that human culture is in some way 'over and against' nature is not just obtuse, it is also dangerous. It is dangerous to our planet, to our eco-system, to the air and water we require for life. We are not a privileged class. We can't depend on some divine intervention when sea levels rise, or we run out of natural resources, or can no longer breathe the air without a mask. No help is on its way. We can no longer rape the environment with impunity and expect immunity from nature's prosecution!
I'm done with Christmas. It's too dangerous to life on earth. Instead I'll celebrate it the way the ancient pagans did—a celebration of the life-giving sun and its return from the Southern Hemisphere. May it continue to "bless" us with its energy.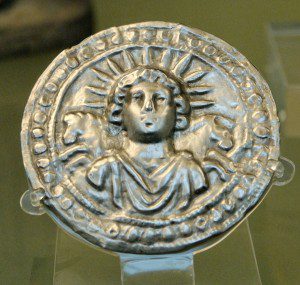 Merry Winter Solstice, and many happy returns of the day!!
**Editor's Question** Which parts of Andy's sermon do you think a pastor could give on Christmas day and still keep his job?
===================
Bio: 'Andy,' a former Southern Baptist Minister, is currently a Pastor in the United Church of Christ. He plans to retire in the church, despite his rejection of metaphysical speculation (God, salvation, heaven, etc.). His life has been an evolution from traditional theism, to non-theism (via Tillich and Spong), to agnosticism (via linguistic philosophy), to 'incipient atheism' (via secular humanism). He holds a PhD in Biblical Studies from a major American university.
>>>>>>>>>Photo Credits: "Giotto – Scrovegni – -18- – Adoration of the Magi" by Giotto – http://www.scienceblogs.de/astrodicticum-simplex/2008/12/der-stern-von-bethlehem.php. Licensed under Public Domain via Commons – https://commons.wikimedia.org/wiki/File:Giotto_-_Scrovegni_-_-18-_-_Adoration_of_the_Magi.jpg
"Diogenes looking for a man – attributed to JHW Tischbein" by Attributed to Johann Heinrich Wilhelm Tischbein – Nagel Auktionen. Licensed under Public Domain via Commons – https://commons.wikimedia.org/wiki/File:Diogenes_looking_for_a_man_-_attributed_to_JHW_Tischbein.jpg
"Disc Sol BM GR1899.12-1.2" by Unknown – Jastrow (2007). Licensed under CC BY 2.5 via Commons – https://commons.wikimedia.org/wiki/File:Disc_Sol_BM_GR1899.12-1.2.jpg#/media/File:Disc_Sol_BM_GR1899.12-1.2.jpg
>>>>>>>>>Photo Credits: