Editors Note: Frequent blogger Mason Lane is philosophical, funny and — who knew — he's a poet too!
============
"Oh Little Crismas Tree" By Mason Lane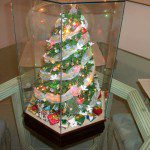 This is our little Crismas tree
With the lights and presents beneath
It sets up in just two minutes
And saves us tons of grief
We're perplexed, is it Mythmas, Reason's Greetings, Stressmass,
Heathen's Greetings, or Winter Solstice Day?
So we skip the cards to friends and family
While the countdown ticks away
A season of old St. Nick and reindeer
Candy canes and god forbid
That teenage girl in the manger hay
Giving birth to some player's kid
It's crazy it's hectic and shoppers are weary
And traffic's the worst of the year
And if parents don't run up their Visa cards
The merchants panic in fear
But the power of myth flexes its biceps
And the holiday madness is here
So we thank our little Crismas tree
We see her just once a year
===================
Bio: Clergy Project member Mason Lane was born Dean Aughinbaugh and changed his name for the music business, from which he's retired. He was general manager of WHME-FM Radio (Christian programming) and pastor of Christian Faith Church in South Bend, Ind., then dean of students and soccer coach at DeVry University in Phoenix. Justifiable Homicide is the story of his journey to atheism. Google "reverbnation" and "mason lane" to sample his music online.