Holy Week rituals can be tough for clergy who are ambivalent about or simply do not believe that the death of Jesus on the cross resulted in his literal resurrection three days later.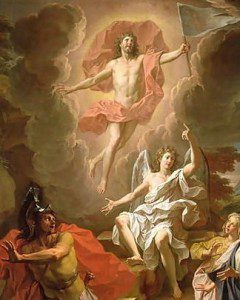 This likely applies to a lot of clergy – fundamentalists whose beliefs have changed because of their science studies and their close reading of the Bible as well as liberal clergy who are not really taught in seminary to believe in a literal resurrection. Yet many of the people in the pews believe and the ancient rites of the church assume belief, so what are clergy to do?
Some of them, perhaps a majority, I don't know, retell the familiar story from the scriptures. But I know of two who have not gone that comfortable route. These are not non-believing clergy that I've interviewed or that I've met via The Clergy Project. These are people whose views I'm aware of only because I've read their blogs – their public church blogs.
Read what UCC pastor Dwight Welch had to say at the beginning of Lent in 2015:
"I used to say no, I didn't believe in the resurrection. And I still don't believe that the laws of biology can be suspended in our favor, that a dead body can be physically resuscitated. I don't believe religious faith can be the suspension of our critical faculties nor a requirement to believe things we know aren't so. That is credulity, a form of magic, not an expression of faith. 
But my answer has changed now. Today I do believe in resurrection. It is a kind of resurrection that happens when there is a transformation of our lives such that our old self dies and a new self, a more authentic and real self emerges."
Pastor Welch, who is gay and married to a same-sex partner, goes on to explain his metaphorical use of the word resurrection:
"When I consider my own coming out story, when I hear the coming out stories of others, the process is a kind of resurrection, an affirmation of life, one that struggled to be born against the odds, against the death dealing ways of our communities and those still in the grips of fear and prejudice."
He became pastor of The United Church of Norman, in Oklahoma, in 2014. I just checked and he's still there, so it appears that his congregation is content with this point of view.
On Holy Thursday, March 28, 2013, The Episcopal Bishop of Washington, Mariann Budde,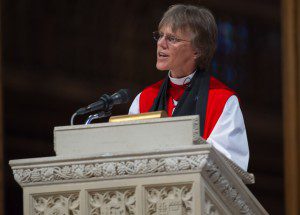 wrote a blog post that said this:

"To say that resurrection is essential doesn't mean that if someone were to discover a tomb with Jesus' remains in it that the entire enterprise would come crashing down. The truth is that we don't know what happened to Jesus after his death, anymore than we can know what will happen to us. What we do know from the stories handed down is how Jesus' followers experienced his "resurrection. What we know is how we experience resurrection ourselves."
I can't link to it, because the Cathedral changed its online system, and in the process, removed that particular blog post (which I had previously downloaded in its entirety). Thankfully, other online sources that refer to it are still operational. And these Catholic and more conservative Episcopalians are not happy. They fear for the soul of Bishop Budde and the future of the Episcopal Church.
In contrast, responses on Budde's original post were quite mixed, with some readers thrilled by her interpretations:
"Through EFM [Education for Ministry] I've been learning these past few years about the centrality of faith to Christianity, and about the many facets of faith. This is a deep reflection on the resurrection, but it also sums up so much about faith. It really speaks to me. Thanx and Blessings to you."

"Dear Bishop Mariann, Thank you for your reflection offered to us all. I think your words are that of great love, patience and care for the human condition. It is a testament to your commitment to all of us, that you allow so many criticisms to be posted on your website. The rigidity of many gives us all a clear view of what we need to work on in our own spirits so that we can do what I believe you would like us to: be at peace and love one another. Welcome to Washington. We are certainly fortunate that you chose to come."
While others were appalled:
"It's long since time to wake up and smell the incense; and it's not a very pleasant aroma at EDOW [Episcopal Diocese of Washington]. This is what you get when you reduce your church to being Unitarians with Vestments."

"'We don't know what happened to Jesus after his death'? I haven't read something this ignorant and vapid from someone who purports to be an educated clergyman [sic] in decades. Seriously, this person should be defrocked. Except you have to remember THIS is the Episcopal Church."
Meanwhile, both Pastor Welch in Oklahoma and Bishop Budde in Washington, DC prevail despite their controversial, but altogether reasonable views about the resurrection. The Bishop's provocative blog post from 2013 may have disappeared from the Cathedral website, but she is going strong.
**Editor's Question** What effect do you think this open denial/recasting of the resurrection will have on the future of religion?
====================
>>>Photo Credits: NASA/Paul Alers – NASA Flickr account, Public Domain, https://commons.wikimedia.org/w/index.php?curid=21370561
Noël Coypel – http://www.1st-art-gallery.com/Noel-Coypel/The-Resurrection-Of-Christ,-1700.html, Public Domain, https://commons.wikimedia.org/w/index.php?curid=8811059