Editor's Note: It's quite common – and quite understandable – for people who have left religion to be angry. But then what? How do we make peace and make good use of the one life we know we have? This ex-minister provides examples from his own life, one of which involves speaking in a church that is receptive to hearing about his changed beliefs. And he's got the video to prove it!
===================================
By Dave Warnock
Losing faith typically comes in increments- and so it was with me. Like many people I know, I quit going to church long before I actually lost my faith and left the ministry.
Having known most of the pastors (or known of them) in the county south of Nashville where I had pastored, I kept up with what was going on in their churches. About two years into my gradual de-conversion, I began hearing rumblings about controversial activities at GracePointe Church, which Stan Mitchell had started in 2003, after breaking off from a large Pentecostal church in Nashville. GracePointe had been getting more and more progressive – or so I had heard – and many pastors in the area had written its members off as heretics.
I was intrigued.
I got in touch with its pastor through a mutual friend and we began to meet regularly. I told him my story – all of it. He was intrigued. We had really good conversations about faith and Evangelical Christianity in particular. Pastor Stan had become more and more accepting of the LGBTQ community and had finally made an announcement that he would provide full membership privileges in his church to all people irrespective of sexual orientation. LGBTQ people could even get married in the church.
It created uproar in this conservative area- indeed in the country. Stan and the church were featured in the national news. Here is a quote from Time magazine, taken from a statement Stan made in church:
"Our position that these siblings of ours, other than heterosexual, our position that these our siblings cannot have the full privileges of membership, but only partial membership, has changed," he said, as many in the congregation stood to their feet in applause, and others sat in silence. "Full privileges are extended now to you with the same expectations of faithfulness, sobriety, holiness, wholeness, fidelity, godliness, skill, and willingness. That is expected of all. Full membership means being able to serve in leadership and give all of your gifts and to receive all the sacraments; not only communion and baptism, but child dedication and marriage."
Other pastors in the community spoke out against him. The kind of inclusion GracePointe was offering was a line that many of the congregants, friends, and even family could not cross. People left the congregation in droves.
Some time in the past year or so I began to go to his church on an occasional Sunday and just sit outside drinking coffee on the patio or wander in for a bit of the message or a few songs. Mostly I just enjoyed watching the people. I loved seeing the ones who had been told they didn't belong and weren't accepted find a home. I also just wanted to support my friend.
A few weeks ago, I was there after one of my trips to Nicaragua and told Stan that I had some good news. He knew I had been struggling with how to move forward as an agnostic and to not just live a life that was identified by what I did
not
believe. I had been attempting to add some value to my days on earth by getting involved in mission work in Central America. What we were doing there was truly life-changing for the people living there and was very gratifying to me personally.
He was in the middle of a teaching series called "Reframe" in which he explained what it meant to deconstruct one's faith and then reconstruct it in a way that looked totally different from the one you had known. He leaned over as he walked by and said,
"What if I brought you up to the platform to talk about your journey?"
I told him that would be fine with me. He knew I was an agnostic, and he wasn't afraid to let me speak from his pulpit. He wanted me to talk about what I had found that had replaced the faith I once knew. He wanted me to talk about what an agnostic or an atheist can do that has value and meaning.  So I did. The video below shows an edited 12 minute version of that conversation.
Stan set up my brief talk and gave it context so that it would not simply be about my de-conversion, but about what to do with de-constructed faith and how to move forward in a positive way.
I think this is an important conversation for people in the secular community who are looking for ways to do more than focus on what we don't believe, what we hate about religion or how misguided Christians are. I did all those things for a while and got tired of it.
We in the secular community share the notion that this life is all we have. It's my contention that we have to make the most of it, and I'm finding ways to do it.
**Editor's Question** What are you doing (or thinking about doing) to make the most of your secular life?
====================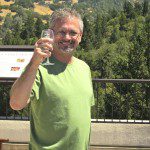 Bio: Dave Warnock was a Christian for 30 plus years in the Evangelical/Charismatic movement, in active pastoral ministry most of that time. He left the faith about four years ago after gradually realizing he had run out of reasons to believe. He is 60 years old and lives near Nashville, TN, where he works in the insurance business.
>>>>>>> video editing by Adam Mann