I am happy and exhausted from two days of Reason Rally activities, starting with the Saturday breakfast at my house (just 3 miles from the rally at the Lincoln Memorial) and ending with the Sunday mini-conference at a Capitol Hill Hotel.
I was so excited by the prospect of hosting 60 people for breakfast, including Patheos bloggers, Clergy Project members and local and national freethinking friends, that I forgot to take pictures. At least that's the excuse I make for myself. Luckily, other attendees who snapped a couple of shots were willing to share them with me.
Here's thrilled Celia Jones with handsome Fernando Alcazar, author of To the Cross and Back.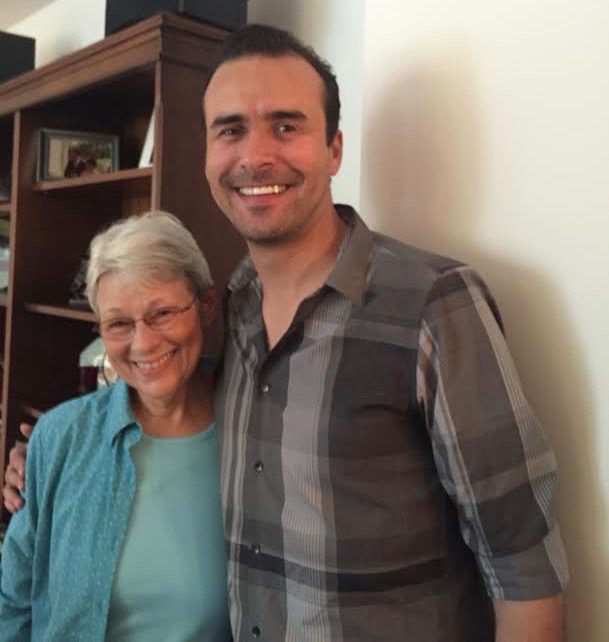 And here are two more very happy rally goers: me and another clergy project member, David Madison, who has a book coming out soon – Ten Tough Problems in Christian Thought and Belief.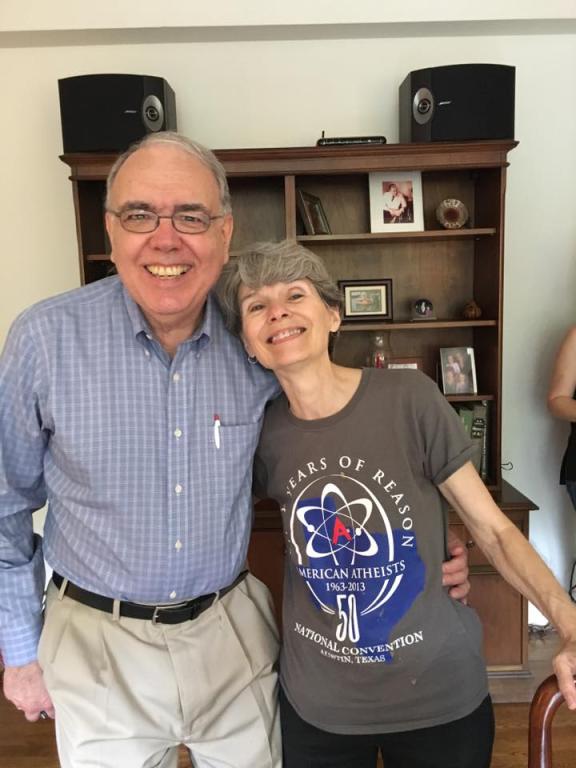 Fernando and David have also contributed to the Rational Doubt blog. Celia and I are on our tippy toes straining to be pictured with the two very tall guys.
There were five Clergy Project members present – Fernando, David, Jeff Falick (aka The Atheist Rabbi), also a Rational Doubt contributor, and two others whose names I can't mention. They are "out" on The Clergy Project private site, but not yet out to their families. They were thrilled to meet other TCP members and to be at the rally.
Although I don't have a photo to prove it, I have a lasting vision of them sitting together on the back porch thoroughly enjoying each other's company. As one of them said to me,
"I can't tell you how much I needed this!"
The Reason Rally itself easily exceeded expectations simply by not raining. Not a drop – though violent thunderstorms were predicted. We know providence was not smiling on us, but we were very grateful nonetheless.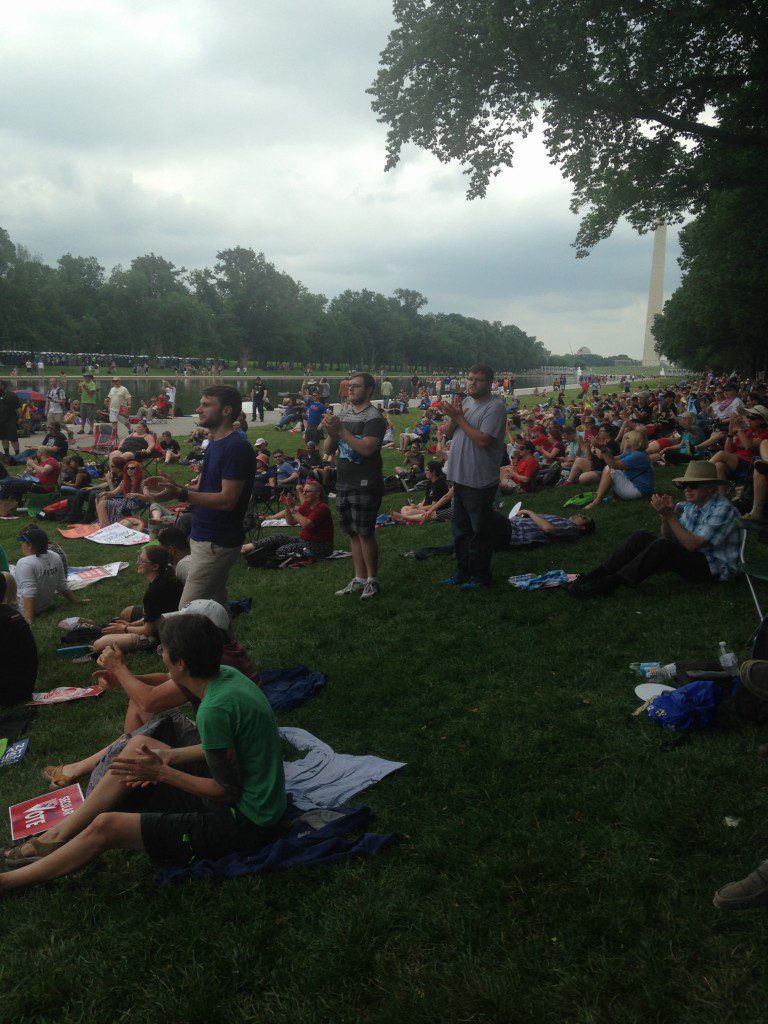 There is a question about the size of the crowd compared to the 2012 event. To me, it looked smaller this time, but it's hard to say, because the reflecting pool separated the crowd and the better weather, compared to last time, meant we weren't standing under big umbrellas as we were in 2012. Another Patheos blogger, Hemant Mehta, provides a lengthy analysis of the event here.
The Sunday mini-conference was well attended and very spirited, including, among other events, a session of the Sunday Assembly and a panel on "Leaving Religion" which I participated in, along with Julia Sweeney, Maryam Namazie, Mark White, Gayle Jordan and moderator Sarah Haider.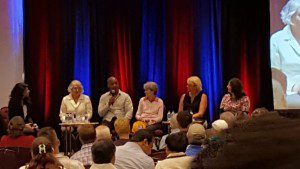 Wish you were there.
>>>> Photo Credits: Lynne Williamson, David Pandozzi, Linda LaScola, Phil Ferguson (tweet)