Editor's Note: This is the second of a two-part series by Clergy Project members reflecting on the news that a prominent member, Teresa MacBain, has announced a return to Christianity. I'll repeat what I said in the introduction to the first essay: Both writers, Alexis Record and Catherine Dunphy, sent me unsolicited essays, each moved in her own way to address this unsettling event. We are Freethinkers using this space to express our views and state facts freely.
======================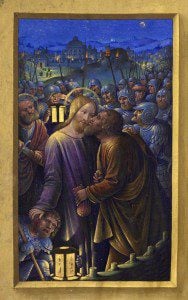 By Catherine Dunphy
Just over three years ago, the secular community was reeling, confronted by the sting of deceit when the New York Times published a story about prominent atheist Teresa MacBain fabricating her ministry credentials. MacBain said publicly that she had completed a Masters of Divinity from Duke University – when in reality she had never graduated from college, let alone graduate school.
What the public and wider secular community did not know is that MacBain's "fib" about her education came as a shock to Clergy Project members and founders. The Clergy Project only discovered the truth after a Duke seminary grad posted a comment to the TCP Facebook page. I couldn't believe it – so I called Duke Divinity School to confirm these facts.
Teresa had always identified herself as a Duke grad. I like many others, was confused by her motivation to fabricate credentials that were not necessary for her membership in the Clergy Project. Seeing her web of untruths collapse, I and, others were hurt when confronted by her proclivity for duplicity.
After that NY Times article, I did not speak out about Teresa MacBain publicly. My desire at the time was to protect the Clergy Project and to protect her. Since the New York Times article, I have had a few years to mull over what happened and to have a few conversations with other clergy project members about Teresa and her challenges with truthfulness.
Since that time I have come to see that Teresa MacBain has been both a blessing and curse for the Clergy Project:
Connecting the dots – I and others have repeatedly observed her changing details and stretching facts to suit her needs.
Examples:
After coming out publicly at the 2012 American Atheist Convention, Teresa named herself Executive Director of TCP, without consulting the ad hoc board or the founders. She also frequently referred to herself as a "founding member" when in fact she joined five months after the project launched.
Her clearest and most blatant twisting of the truth revolved around her famous coming-out story at the American Atheist Convention in March 2012. Originally Teresa stated that she had resigned her position in a Tallahassee United Methodist church prior to coming out at the conference. I came to learn that this was not accurate. Her former congregation only found out when media contacted them for a statement after the conference. In fact it was not her original intention to come out at the American Atheist conference. She was there as an observer only, but accepted the last-minute invitation to fill in for another Clergy Project member who was originally booked to come out at that conference, but who instead had outed himself a day before during a national news show.
Aside from her public lies, Teresa was very adept at manipulating individual members of TCP, myself included. It's very painful to be manipulated by someone whom you trust – and that sense of betrayal runs deep.
Now Teresa says she has rediscovered God. Utilizing her celebrity as a professional atheist, she is marketing herself as professional repenter – available to help doubting believers get closer to God.
Unfortunately I am not surprised she has taken this route. I, and a few others thought she would claim belief again – but we anticipated it happening shortly after her public reproach in the New York Times, when it seemed that she could no longer profit from the atheist community. That said, being proven right about someone doesn't always make you feel good. In this case, it sickens me.
Teresa harmed many people in her short journey around the philosophical playground, beginning with those in her church community – who were upended when national media came clamoring for a quote.
As previously stated, she failed to inform the Clergy Project prior to the media storm surrounding her fabricated academic credentials.
And now for a second time, she has betrayed the trust of Clergy Project members by not taking the initiative to inform us that she resuscitated her faith. This change in belief means that she is no longer eligible for membership in TCP. And as a former screener of new members, she would be aware of her obligation to protect this community. The board contacted her after inadvertently learning of her video on her new website. It was only then, on October 16, that Teresa resigned her TCP membership and her access to our private member forum was removed.
Based on her new Facebook page, it appears Teresa returned to Christianity at some point this summer. meaning she should have resigned TCP membership four months ago. There could be a variety of reasons why this didn't happen, and I won't speculate. I will say that Clergy Project members who leave the community to return to faith are expected to contact TCP directly to ask to be removed from the membership. This would be the honorable thing to do.
So the question persist – Why did Teresa fail to live up to her responsibility to protect a community that had been her home for so many years?
I'll end with two verbatim quotes taken from the Hope after Faith podcast that Jerry Dewitt and I were interviewed for last week.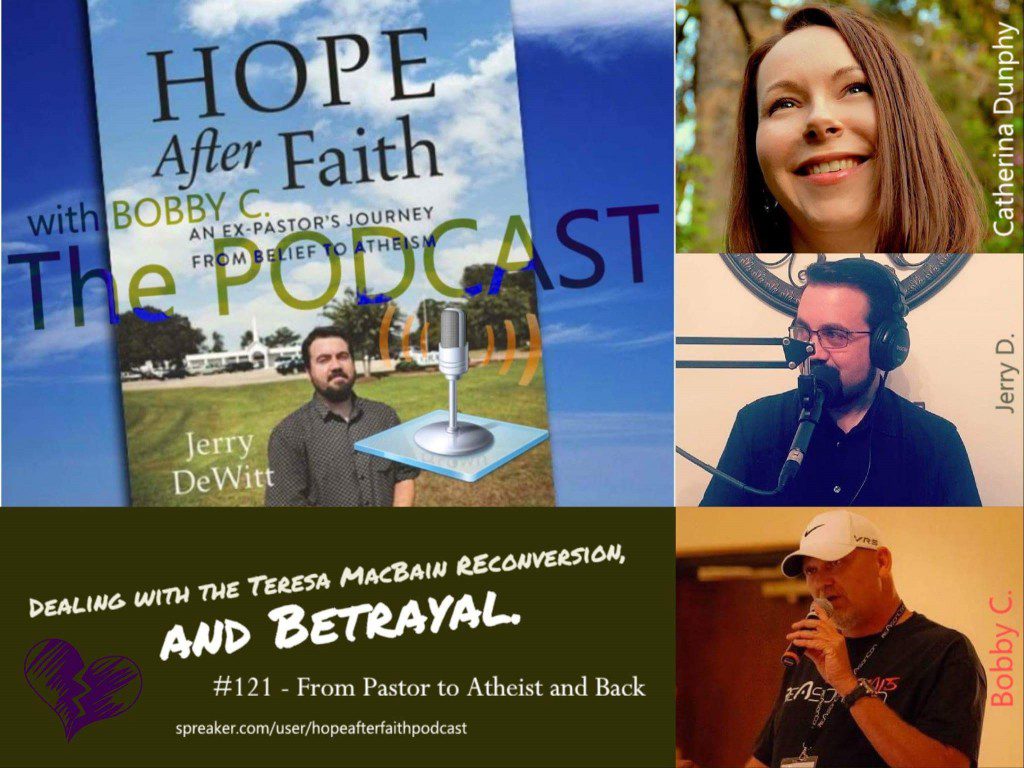 My hope is that these quotes will provide useful information about this episode from both a personal and an organizational perspective:
Catherine Dunphy, on initial feelings about The Clergy Project:

"Aside from that specialness, there as also this – this sense that I was coming home. Like, 'Wow! I have peers again. I have people who actually know what I've gone through. They have felt these feelings; they have had very similar experiences.' And that was astounding. And life changing."

Jerry Dewitt on Betrayal and Denial: [context – a discussion with film makers working with him on a documentary]

"At one point they call me up and say, 'Hey', you know, 'What do you think about Teresa?' And you know, I'm in this bubble. I'm in this bubble. And I say, 'Oh yeah, Teresa is my sister and we really love each other and we've been talking about doing the Jerry and Terry show or the Terry and Jerry show'…. And they're like – 'She is not your friend.' And I said, 'What are you talking about?' And they said, 'Well, we interviewed her, like we did a lot of other people in your world, and the entire time that we were with her, she was trying to talk us out of focusing on you in this documentary and focusing on her. And when we put our foot down and said that simply was not going to happen, then she tried to do whatever she could to make it about the both of y'all.' … It was – something – I don't even know the word beyond hurt…. It was like getting negative test results from a medical test that you were really, really afraid of, only a while later, to get a call back saying, 'We're sorry, but the results actually were positive.' Because it's like I was free and now I'm not free. I was out of this, but I wasn't, I wasn't. I'm not out of this after all. I'm kind of back in the shark tank."

Editor's update: There is another "Hope After Faith" podcast in which Jerry DeWitt discusses this subject further. It is titled "Closing the book on Teresa MacBain."
=====================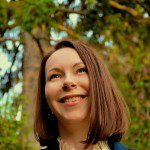 Catherine Dunphy – A humanist, atheist and former Roman Catholic chaplain, Catherine is one of the original members of the Clergy Project and former Acting Executive Director. She is the author of From Apostle to Apostate – the Story of the Clergy Project, published by Pitchstone Press in July, 2015.
>>>Photo Credits: Wikipedia, public domain: http://gallica.bnf.fr/ark:/12148/btv1b52500984v/ Hope After Faith Podcast – Jerry DeWitt