Editor's Note: This is Matthew's second Rational Doubt post since he recently joined The Clergy Project. The first time, he discussed his experiences giving up fundamentalism. This time, he approaches an aspect of leaving religion that is a huge issue among fundamentalists, clergy or not. As you will see, being clergy – especially one with an unusual pastoral relationship with members of his own family – makes things much more difficult.
===============
By Matthew Hullinger
One of the greatest concerns that I've noticed when a person is deciding to come out as a non-believer is wondering how their family will react. It's understandable because family is generally "there" for us, even when the rest of the world has turned against us. Coming out as a non-believer is often a slap in the face to those who have known you the longest. While we like to think that the family bond is unbreakable, that is not always the case. However, I think it's possible to survive and even thrive if people in your family turn their backs on you.
My story might be a bit different from others since the majority of my family actually attended my church. I was not just their blood relative; I was also their pastor. As I was losing my faith, I not only felt a deep, personal emptiness, but I also felt like I was letting my family down. The desire to not hurt my family is the single most important factor that kept me in the pulpit for several years after I was no longer a believer.
Today I am out and while some in my family have turned against me, others still treat me with respect and love. Sadly, I rarely talk to my mother and father anymore. The change has been more than my mother could handle and she spends her time crying, praying and pleading with God to bring me back to the church, out of fear that I will end up in hell. This deeply hurts me. Not only is it saying that I can't possibly be a good person as a non-believer, but it also says that she believes I deserve to go to hell just for being a non-believer. As a person I have changed very little over the last few years, but since faith has left my life, my mother now views me as something dirty and evil.
Here is where I want to express perspective on family:
Family isn't blood – it's love.
Now we could go into a philosophical argument on what love is but all I am talking about is the connection that draws people closer together and gives them the desire and motivation to support each other. Since my family has rejected me, I had to redefine that need for closeness. Granted I am very lucky because my wife is also a non-believer. She is my rock, which I know sounds cliché, but it's true. In addition to my wife, I have my kids whom I adore. Then I have what I call my family. These are my closest friends – those who stood by me during my entire struggle with faith and helped me get back on my feet after I left the ministry. I don't have many friends now, but I cherish the ones I do have. There isn't anything I wouldn't do for them and there isn't anything they wouldn't do for me. We're family even though the blood tie isn't there. As humans, we need to have deep bonds and usually our biological family is where we find them. However, it is also important to know that we could eventually lose those bonds. It could happen when a family member turns on you or when a loved one dies. We all go through these times of loss.
It has become completely apparent to me that our time is far too precious to waste on people who don't like you for who you are or what you do or do not believe. Life is short if you waste it, but as the Stoic philosopher
Seneca
once said:
"Life is long, if you know how to use it."
From the book, On the Shortness of Life by Lucius Seneca, "Seneca the Younger"
Now I try to use my life wisely and to cherish those who cherish me. I try to remember that I'm alive to live – not to live according to someone else's image of me.
===================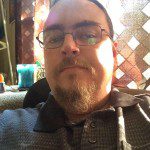 Bio: 
Matthew Hullinger is a 33-year-old former Pentecostal minister who lives in the Midwest with his wife and daughter. After leaving the ministry, Matthew finished college with degrees in Business and Accounting and found a new career in accounting. In his free time, he maintains the "Recovering Theist Support Group" on Facebook.
>>>Photo Credits: By I, Calidius, CC BY-SA 3.0, https://commons.wikimedia.org/w/index.php?curid=2456052