Editor's Note: With input from 12 current or former non-believing clergy, we've discussed guilt from the perspective of various types of fundamentalists, liberal Christians, a seminary professor and Orthodox and secular Rabbis. We've seen how clergy suffer, handle and assuage guilt and how some of them have left guilt behind. In the final essay of this series, Clergy Project member Chris Highland seems to have managed a way to avoid religious guilt altogether – get out early and become a secular chaplain! May he be the wave of the future. Meanwhile – don't be surprised if this subject comes up again here. There is plenty of guilt to go around.
=====================
By Chris Highland
What are some of the things you regret, if any, about staying a member of the clergy after you no longer believed?
If I regret anything, it's probably not engaging in more conversations with my (interfaith) colleagues during the process of exiting the faith bubble. I know some clergy were a bit stumped by my "lack of center" (Christian identity), but that wasn't too much different than all the years as a chaplain. Few seemed to really "get it" enough to fully support the work.
What are some of the things you learned because of your new perspective as a non-believing clergy?
My situation was rather unique, since I left my ordination but continued to work as a chaplain. The church (one denomination) could no longer have a say in the work, though they could have pulled some funding (but didn't, for the most part). I suppose I learned that doing the work of good was not really much different from doing the work of god. I also discovered that those I worked closely with (both colleagues and clients) didn't seem to really care what I believed, as long as I continued to practice the compassionate presence that was always the center of the work anyway.
What are some of the things you learned once you left the clergy?
Again, I learned that religious titles like "clergy" or "minister" were never the point and were often pointless. To be called "Chaplain Chris" was honorable enough, even though "chaplain" still had some vestiges of the religious tradition. The way we enacted the chaplaincy (among people in jail, housing challenged, mentally ill, addicted, etc.) was built on a foundation of cooperative coalition that usually included clergy and non-clergy on the liberal edges anyway. I also learned–or rather confirmed–that being "in good standing" within the church structure might open a few doors here and there, but I was never much of an insider to begin with.
What advantages, to yourself or to society, have you seen in getting out of the clergy.
I think it's a great advantage to have the solid background (educational and experiential) and then move on. I can "speak the language" of faith and scripture while clearly explaining the reasonable and personal process of walking out the door and out into the wonderful wilds. My weekly columns in a local paper, engaging a spectrum of local clergy, continually draws on the depth of insider/outsider knowledge.
What was it like the first time you preached a sermon after you'd realized you were no longer a believer?
Early on I spoke in Unitarian churches (of course) but probably the most meaningful experience was giving two sermons in a Presbyterian church where many people knew me in my former faith life. I spoke on "God is Green" which was pretty much "God equals Nature" – then called out the liberal congregants as nature-worshiping heretics. I did this gently, with humor, and it was well received. Several of my former seminary professors there hugged me afterwards.
Were there times while speaking to someone it was hard not to just blurt out what you wanted to say? If so, please describe.
This was not really a problem for me. I usually enjoy the challenge of explaining where I was and where I am now in terms of beliefs. It was a little more difficult with some family who still don't understand and I feel they don't really want to understand – too scary for them.
Who was the first person you told you no longer believed and how did conversation go?
If this means "no longer believed in the supernatural," I would say that goes back almost to seminary. Well, not quite, but Reality was always more critical than Religion! The first person was probably a good friend, also an ordained minister at the time, who shared many of my questions and dismissal of nonsense. He is still in the church and continues to share many of my "beliefs in nonbelief."
Since you've been "out," how have you been treated by people in your former congregation or community?
I have very little contact with most of them, partly since I moved across the country. However, those few who were my friends and confidants then, are still connected now. We don't always agree on some things related to god-issues, but we have found a happy medium to simply be friends.
====================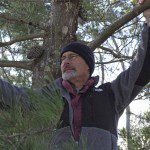 Bio: Chris Highland was a Protestant Minister and Interfaith Chaplain for many years. He renounced his ordination in 2001. He is the author of My Address is a River, Nature is Enough and ten other books. Chris is currently a member of The Clergy Project, the American Humanist Association and Americans United for Separation of Church and State, while he blogs at Secular Chaplain. He teaches a class on early American freethinkers at the Reuter Center, UNCA. Chris and his (reverend) wife Carol, live in the mountains of North Carolina. To learn more see www.chighland.com.