What a thrill it was to see the stories of so many Clergy Project members and Dennett-LaScola study participants come to life!
That's what happened the weekend of October 13th and 14th at the Carleton Theatre in downtown Toronto. The "Losing our Religion" documentary was made by Zoot Pictures, a Documentary production company in Winnipeg, CA headed by Leslea Mair and her husband, Leif Kaldor. Here's the trailer.
Here's me Leslea and Catherine Dunphy (who lives nearby) outside the theatre.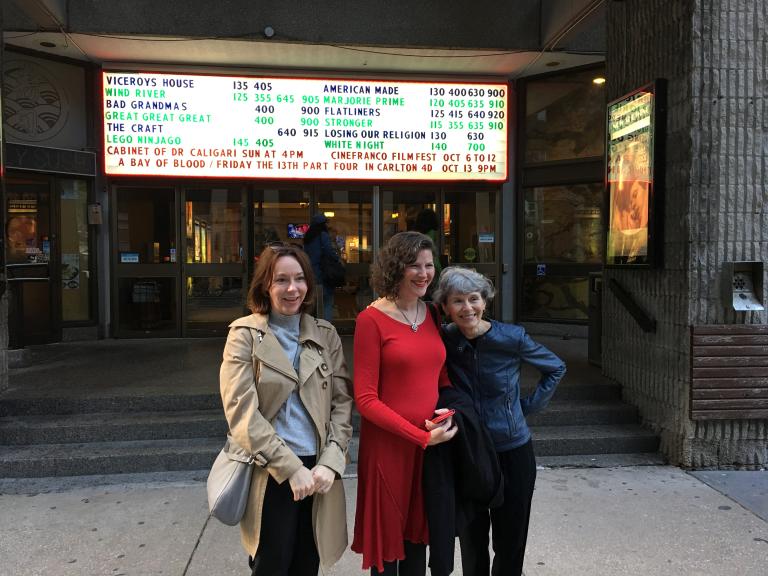 And here's me and Catherine inside the theatre mugging in front of a poster for the movie.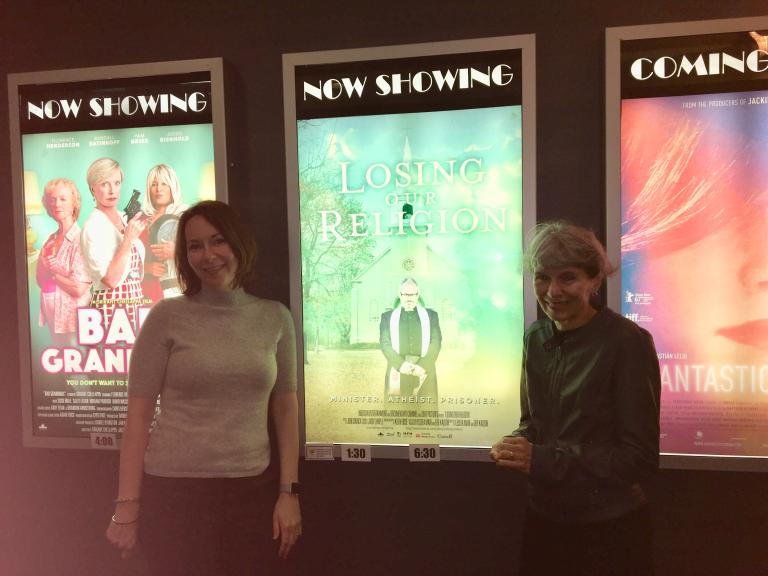 The documentary is full of familiar faces and names of people who have written for the Rational Doubt blog. I must say, it was weird seeing myself and so many people I know on the big screen.
Here is a list:
Me – Co-Author of Caught in the Pulpit and editor of this blog
Dan Dennett – Co-Founder of The Clergy Project, Tufts University Professor, author of Breaking the Spell, etc.
Catherine Dunphy – Catholic Seminary Grad, former Clergy Project Executive Director, author of From Apostle to Apostate.
Brendan Murphy – former pastor, Clergy Project member – and his wife, Jen and their children
Dan Barker – Co-founder of The Clergy Project and co-president of the Freedom from Religion Foundation, Clergy Project member, author of Godless, etc.
Richard Dawkins – Co-Founder of The Clergy Project and head of The Dawkins Foundation, Oxford Professor, Emeritus, author of The God Delusion, etc.
"Stan" – Clergy Project member and liberal Christian pastor when this was filmed, now "out."
"Andy" – Currently a UCC pastor and Clergy Project member
Jerry Dewitt – Clergy Project member, Author of Hope after Faith
Bart Campolo – Recently the Humanist Chaplain of USC, Clergy Project member, Co-Author with his father of Why I left; Why I Stayed.
Gretta Vosper – Pastor of West Hills United Church of Canada, Author of With or Without God, etc.
Mike Aus – Clergy Project member and Leader of the Houston Oasis
John Shuck – Clergy Project member and active Presbyterian minister
Phil Zuckerman, – Professor of Sociology and Secular Studies, Pitzer College, author of Society Without God, etc.
This may not be a complete list. Let's just say I knew everyone in the film–through the blog, The Clergy Project, the study or all three.
Leslea contacted me several years ago with her documentary idea and we met in person for the first time when she interviewed me and Dan Dennett at his Tufts University office.
I have great respect for her and Leif's ability to put all this material together in a way that's not only cohesive and accurate, but also entertaining and gripping. I noticed that the audience was watching intently. I tried to do some observational research, which was difficult in the dark!
After the movie, I tried to do a little informal focus group with some of the audience – members of the Toronto Oasis (an off-shoot of Mike Aus's group) who went out for drinks afterwards. It was fun but there's nothing I can "report" on here. You can't do proper research while drinking beer. I can say that they enjoyed the show and that they have a great humanist group going in Toronto.
How can you see the documentary? If you're in Canada, you're in luck. Check the Canadian Broadcasting Company (CBC) website to watch it on TV or to stream it on your computer. If you're in the US, you're pretty much out of luck. CBC won't let you stream it (I tried). There were a couple of showings in California, however, and there may be another in Portland Oregon, where John Shuck is located. Update: There will be a showing at the Southminster Presbyterian Church in Beaverton, OR on Thursday, November 30th. FOr complete information, check this link. 
I will keep you posted of any other US showings and let me know if a humanist group in your area would be interested in a movie night.