Editor's Note: While preparing the blog post The Acid Test of Final Farewells, by Roger Elsinger, I contacted Carter Warden about sharing the video and song he created about Roger shortly before he died. Carter's immediate response was to offer to write about his memories of Roger's last days. Here they are, along with direct quotes from Roger's writings and  links to Carter's video and song.   /Linda LaScola
By Carter Warden
After nearly 25 years in ministry, I happily discovered that I was not alone as a clergy member who had abandoned belief in God. I realized that science and reason are the best tools for people to discover truth, freedom, happiness and purpose for this life. I learned that goodness, morality, happiness, compassion, love, selfless sacrifice, and the desire to make this world a better place do not come from a deity or a sacred text. All these things are found within each of us as we accept our role as one of the most evolved and privileged species on earth.
I saw this firsthand in March of 2013 when Roger Elsinger,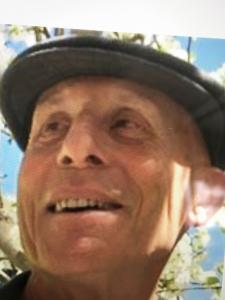 a former Roman Catholic priest who was a member of The Clergy Project shared on our private forum that he had just been diagnosed with inoperable liver cancer and had four to eight weeks to live. He posted "The Acid Test of Final Farewells" which was just reposted on Rational Doubt. Roger's amazing positive attitude and willingness to share his pain and resolve with complete strangers was a very powerful testimony that there truly are atheists in foxholes, and that death without the hope of something beyond is not only fathomable, but can be viewed as a welcome experience in this journey of life. Outside of the forum, Roger and I exchanged emails and spoke on the phone as he awaited his imminent death.
So impressed by his attitude, I asked Roger if he would like to do an interview. I wrote,
"I would like to share your truly inspirational story with others so they can see one does not need a god or gods to find peace even in the most difficult situations. This is real 'good news' that everyone needs to hear."
Roger replied,
"I'm happy to do all that I can coherently do, as this has truly been a lifetime search. However, I daily feel the energy slipping and wonder if I have more than a week of coherence left. I can offer no guarantees regarding my quality of presence in the days ahead.  My type of liver cancer reportedly hums along with a slow tipping of the bucket and at some point it goes over center and all seems to slide for the door at once."
I quickly learned that Roger never gave a short answer and that he always amazed me with the thoughtfulness and the eloquence of his words. In another email exchange he wrote,
"Emergence on every level of this cosmic reality is for me very alive and I think valuable as a picture for people who wonder, people who fear.  Reality presents a more dignified picture than that of the mythical scolding daddy that so many of us settled for in the first decade of our formative lives."
I had the privilege of interviewing Roger for over one hour on Skype. At the end of our discussion, Roger gave me permission to edit and to share the interview [click here to view], even though he knew he would likely not live to see it. Roger wanted to help others be free from the fear caused by religious dogma when contemplating death.
While interviewing Roger, he casually mentioned how inspiring the work of Richard Dawkins and Dan Dennett had been to him over the years.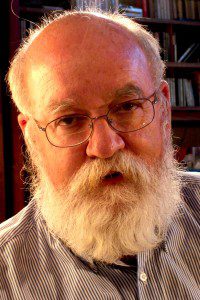 Wanting to do something special for Roger, I sent a message to
Dan Dennett
and shared Roger's story and phone number. One day later Roger wrote me saying,
"Adam, if you did anything to facilitate the call [from Dan Dennett], I thank you from the depths of my heart. It was a very heartwarming surprise and damn near midnight his time. I had often watched him as one of the four Horsemen: one of the purer essences of the goodness of this universe."
I was thrilled for Roger and so appreciative that Dan Dennett was able to take time from his busy schedule to show care and compassion toward a complete stranger.
Truly admiring and wanting to get to know Roger better, I downloaded and read his memoir. Roger was a deep thinker and I discovered that he truly loved contemplating cosmology, natural science, space science, evolution, psychology and philosophy. I learned quickly that Roger just loved everything about the journey of life.
Still wanting to do more for Roger in his last days I wrote and recorded a song for Roger entitled "Beautiful Journey" [click here to listen] Roger wrote,
"I express gratitude for your continued concern. I genuinely hold the awareness of complete readiness to as fully embrace the workings of evolutionary emergence by my physical death as truly as any medieval devotee awaiting the embrace of Jesus.  I've been in love with the intricate workings of a vibrant topsoil since early youth and totally trust the micro- and macro-dynamics of this awesome universe – so much grander than the vagaries of fear-driven projections."
In one of the last emails I received from Roger, he wrote,
"This project has helped me immensely in the effort to ground (plant?) myself in this surprisingly meaningful foxhole."
Roger died peacefully at his home a few weeks after the interview. He did not live to see the final video of his interview, but he was excited to know that his thoughts about life and death would enlighten and encourage others. I only knew Roger from a distance for a few days, but I am truly grateful for the experience. Peace, compassion and purpose were all exhibited in the life and death of a fearless non-believer. There was truly no foxhole fear here.
=====================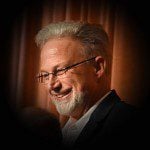 Bio: Carter Warden is a former conservative pastor of 25 years, now openly atheist. Using the pseudonym "Adam Mann," he was a founder of The Clergy Project, its first member and one of its first forum moderators. "Adam" was one of the original five interviewees in the 2010 Dennett-LaScola article, "Preachers who are not Believers." While still in ministry, he was interviewed undercover by ABC World News Tonight and the Canadian Broadcasting Company. Carter made his change of beliefs public at the Freedom From Religion Foundation National Convention on October 7, 2016. He hopes that his story will bring encouragement to clergy trapped because of changing beliefs as well as all people who fear openly identifying themselves as non-religious.