Editor's Note: I'm feeling optimistic. Maybe because I'm an born optimist, and maybe because I actually see the tide turning on this incredibly stupid and disheartening political situation we're experiencing in the US.  Whatever – it's encouraging to see a former fundamentalist leave his antiquated and harmful beliefs behind to become an humanist activist.  It's especially heartening to hear about the good guys winning over the really bad guys – white nationalists.  I have a feeling that this will be happening more often and that we humanists will be called upon more frequently to stop the current foolishness and activate the return to a reason-based government.  The recent positive experience of this former fundamentalist should fire us up! /Linda LaScola, Editor
=========================
By Luke Douglas
"When equality is under attack, atheists show up."
That was the sign I carried a Sunday in August when I marched with over a thousand protestors against a contingent of Neo-Nazis in our nation's capital. The Washington Area Secular Humanists organized a contingent of humanists and atheists to send a clear message to Washington and anyone who would listen. The danger of facing (possibly armed) fascists was not something I took lightly considering what happened in Charlottesville last year, but I knew going to challenge them was the right thing to do. No God needed to tell me so.
When I got there, it was almost laughable how nervous I had been about violence or the rumors of mass arrests. Maybe twenty Neo-Nazis showed up, stood in a square surrounded by multiple echelons of police, and marched to their rallying point in front of the White House. United Against Hate marched behind them, well over a thousand strong. After the ostracism that participants in the first Unite the Right faced, this year's alt-right largely opted to cover their faces from any media coverage, and the biggest danger I faced was dehydration on a typically hot Washington day.
It wasn't my first protest. I came out for my share of March for Life and related events before my worldview changed. When I was 15, my first campaign was Proposition 8 in California, which amended the State Constitution to define marriage as between one man and one woman back in 2008. It passed. I worked for conservative nonprofit organizations dedicated to litigating its legality.
It held until one day five years later: I was on the steps of the Supreme Court on the day when the rulings on DOMA and Proposition 8 were to be announced, deciding whether marriage equality at the federal and state levels respectively were within reach.
I was doing a summer clerkship for a conservative group in D.C. that summer, and I went to see if there were any groups on our side there. Not a one was visible.
Thousands of protestors were there for equal rights, and my stomach sank when I realized that the quiet doubts I was burying were not just my problem. My actions affected other people, and I owed it to the world I lived in not to pretend I wasn't questioning what I was taught to believe when I was growing up.
Years, hundreds of books, and a passing-through libertarian phase later, I resolved that I was a nonbeliever and a progressive, and that I was certain enough of those transitions to stake my career on them. But in coming over to the right side, I brought certain insights with me.
The Evangelical movement has a very special relationship with political activism, as Jerry DeWitt has highlighted so well, and one that the secular community should learn from. I reached out to Daniel Dennett and Linda LaScola specifically because the Clergy Project resonated so well with me. I can't join because I've never been an ordained minister as such, but my experience as a political operative parallels that of so many nonbelieving pastors stuck in the pulpit.
In Evangelicalism, political activism is ministry. The Evangelical movement has made itself politically formidable by sending so many of its best and brightest to organize itself as a conservative lobby, fund litigation, and wield a potent electoral block. My ministry was to mobilize Christians for the Kingdom of God, and I was good at it. The chess game is not that different on one side of the board than it is on the other.
Looking back, the secular movement has incredible lessons to learn.
We have to make ourselves indispensable to other movements for equality.
We have to show up when other people's rights are threatened.
We have to mobilize ourselves to be a voting block that politicians aspire to win.
We have to show the brave few nonbelieving politicians who have already come out that we have their backs, and that their closeted colleagues need not fear exposing their nonbelief.
This world is changing, and we can be on the vanguard of making it better.
===========================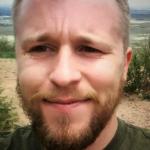 Bio: Luke Douglas is a political consultant, progressive activist, writer and rabble- rouser. Since leaving fundamentalism and a political career for the religious right, he has been outspoken about his journey to secular humanism. Catch him reading history, science, or philosophy, or on Twitter @Propter__Hoc.
>>>>> By Excel23 – Own work, CC BY-SA 4.0, https://commons.wikimedia.org/w/index.php?curid=57392776