Editor's Note: Here is another of Clergy Project member Alexis Record's thoughtful book reviews. It's about the book just out by another Clergy Project member who has written an anthology of his columns that appear weekly in the Asheville, NC Citizen Times. Enjoy – the review and the book (I read it too!) /Linda LaScola, editor
========================
By Alexis Record
If I had to sum up Chris Highland's A Freethinker's Gospel: Essays for a Sacred Secular World in one word, it would be lovely.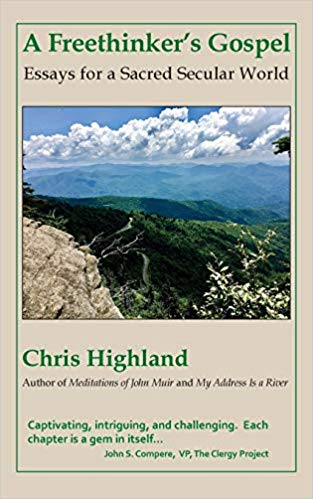 What a gentle call to the difficult but beautiful work of bridge building and the perfect mental preparation for those heading to holiday tables filled with casseroles, pies, and religious differences.
For anyone who grew up reading a daily devotional, A Freethinker's Gospel works nicely as a secular equivalent focusing on nature rather than numina. It is worth slowing down and reflecting on each topic, which range from the value of interfaith work, inclusion of secular family during holidays, and the contributions of people from history.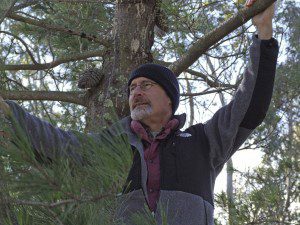 Your guide, a former pastor, talks about what gets his "peeved goat" and uses the word "heck" when talking about Hell. This makes the book feel as if it were written by the quintessential dad. When evangelists target the poor or children are discouraged from critical thinking it does not bring rage from our author, but something worse from any dad: disappointment.
At one point my young, neurodivergent son crawled into my arms and placed his head on my shoulder so I began to read aloud. After a while he sighed contently and even tried to sneak a thumb into his mouth. We enjoyed this for several essays until he finally asked,
"Mom, are you reading the Bible?"
With all of the religious language he picked up on, it was a clever guess.
"No," I responded.

"Okay," he said, then added after some thought, "I didn't think so because you don't sound mad."
I had to chuckle. It made me wonder how Highland could reach back into this world with such grace.
A Freethinker's Gospel is very amiable to belief. It eschews anti-theist talking points in favor of unification, yet without losing a secular perspective. There is a welcoming consideration to those of faith–reaching out like an open hand as opposed to the closed fist of an angry or jaded former member. The ultimate goal is seeing the humanity beneath religious or atheist labels.
The best example of this has to be the interview with Baptist pastor, Johnny Prettyman. (I admit this name made me smile.) This conversation would be exhausting to many former believers, yet Highland plays the intercessory role well between preacher and reader. He patiently hears Prettyman's Bible stories, yet pulls from them a theme of "love as well as choice."
When I read his interviews with other religious leaders, the same kindness in interpretation shines through. He argues that religion and political positions are not automatically deal breakers when working towards common goals. Even Martin Luther, the father of the Protestant movement whose views on women would make any sane person recoil, can be supported when standing up to orthodoxy and condemning taking advantage of the vulnerable through the sale of indulgences. It's what any freethinker would do. And just like that, another bridge.
It's easy enough to avoid people with antipodal belief systems, but not always during the holidays. It's here that deeply held religion wears my Grandmother's face. This is when I need the message of A Freethinker's Gospel to encourage me to hunt for that solidifying ground of mutual goodness, however a tiny island.
=====================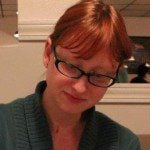 Bio: Alexis Record is a feminist, humanist, ex-Christian atheist, and mother to children with disabilities. She devoted the first 30 years of her life to Christian study and service due to indoctrination, and is working to repair the years the locusts have eaten.
Author Chris Highland was a minister and chaplain for many years in the SF Bay Area. Now teaching courses on Freethought in Asheville, North Carolina, he writes a weekly "Highland Views" column for the Citizen-Times. His new book, A Freethinker's Gospel, is now available from Pisgah Press. Chris has been a member of The Clergy Project since 2012. To learn more, see www.chighland.com.
>>>>Photo Credits: https://www.amazon.com/Freethinkers-Gospel-Essays-Sacred-Secular/dp/1942016395