Editor's Note: As I read this sermon, originally delivered in a church, it doesn't seem like a sermon at all, but rather a pleasant lesson on the importance and meaning of friendship. I bet a lot of sermons currently being preached are a lot like this. I hope so. Enjoy this final sermon in this series, preceded by an introduction by the author. / Linda LaScola, Editor
===========================
By Bob Ripley
A month before I took early retirement almost ten years ago, I preached a sermon from the Book of Hebrews which, looking back, reflected my unconscious move away from the content of orthodox Christianity. By that I mean that back then, as now, I sought and found passages from the Bible which I could recommend in good conscience to believers and non-believers alike. This sermon that I preached in September of 2009 was one of them.
"And let us consider how to provoke one another to love and good deeds, not neglecting to meet together, as is the habit of some, but encouraging one another…" (Hebrews 10:24, 25)
Some folks are so good at discouraging others that their put downs have become classics.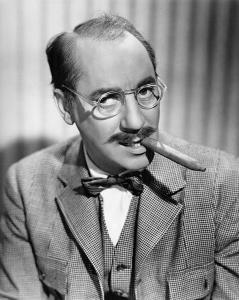 Groucho Marx was leaving someone and said,
"Well, I've had a wonderful time. Only this wasn't it."
Another famous Groucho line was this:
"I never forget a face but in your case, I'll make an exception."
On being told that President Calvin Coolidge had died, Dorothy Parker said,
"How could they tell?"
Mozart said to a fellow composer,
"I like your opera, perhaps I will set it to music."
My all-time favorite put down comes from British Prime Minister Winston Churchill.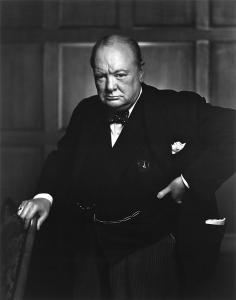 Nancy Astor, the first woman to take a seat in the British House of Commons, who was known for her sharp wit said to him,
"If you were my husband, I'd poison your tea."
To which Churchill replied,
"If you were my wife, I'd drink it."
The rest of us who are not that quick witted have to resort to the tried and true slights:
Not the brightest crayon in the box.

Not the coldest beer it the fridge.

One sandwich short of a picnic.
And so on.
Our text this morning tells us not to put people down but to lift them up.
"And let us consider how to provoke one another to love and good deeds, not neglecting to meet together, as is the habit of some, but encouraging one another …" (Hebrews 10:24, 25)
In those days before email or any mail for that matter, if you wanted to encourage someone you had be with them. In fact, the Greek word for encourage literally means "called to the side of." Encourage. Stand beside someone to assure them, to urge them onward, to be a pillar of strength for them.
One day the prophet Elijah was so discouraged that he handed in his prophet's papers to God but God wouldn't accept his resignation. Instead God gave Elijah Elisha to encourage him. David was being hunted by that madman king Saul but between them was David's friend Jonathan. St. Paul had Barnabas a name that means "son of encouragement'. Jesus had his twelve buddies not to mention Mary, her sister Martha and their brother Lazarus. Who knows if there weren't days when Jesus was upset, when seldom was heard an encouraging word, and he needed to be lifted up by those around him. There are three ways we can encourage one another.
A LOOK
The first is the most subtle yet most powerful form of encouragement. A look. A nod. A smile. Mercedes Ruehl, one of the few actresses to win a Tony and an Oscar in the same year (for Lost in Yonkers and The Fisher King), saw her first Broadway show when she was in grade school. Her family was in New York visiting relatives and driving through Times Square. On the spur of the moment her parents decided to see if they could get tickets to The Unsinkable Molly Brown.
"I remember waiting in the car," says Ruehl, "while my mother ran up to the box office. The only tickets left were for box seats. Box seats! To me there were no better seats, and I remember my father saying, sure, go for it. One of the best qualities of my parents was that they liked to have fun.

"As we watched the play, I could not take my eyes off its star, Tammy Grimes. She must have felt my adoration, because at one point she looked up and held my eyes. It was probably for no more than one second, but it seemed like ten seconds. I always felt that was my official invitation to be an actress. With her gaze, I was touched like a knight on both shoulders with a sword."
A GESTURE
In my marathon training group, there is a wonderful ritual whenever we're at the local track. Those who finish the workout first will cheer in the rest of us — until everyone finishes. Will Rogers said that we can't all be heroes, because someone has to sit on the curb and clap as they go by.
You don't have to be a cheerleader to encourage someone. You can just show up and let them lean on you. Maybe even let them use you as a punching bag knowing you will not think less of them for their rant.
Oh, the comfort – the inexpressible comfort of feeling safe with a person,

Having neither to weigh thoughts,

Nor measure words – but pouring them

All right out – just as they are –

Chaff and grain together –

Certain that a faithful hand will

Take and sift them –

Keep what is worth keeping-

And with the breath of kindness

Blow the rest away.
We can encourage one another in those kind gestures I know you've had with friends. The late Erma Bombeck once wrote about her best friend.
"When I had a miscarriage and everyone else in the world said, "There will be other babies," she cried with me over the one I lost. When her mother died, I never said, "'She had a rich, full life and she was in her 70's'. When I gave myself a home permanent and left it on too long, she was the only one to sit with me in the bathroom until it grew out. Recently my best friend lost her child. He was her youngest and was in his 20's. I listened to her. I cried with her. But not once did I say to her "I know how you feel'.
In his first season with the Brooklyn Dodgers, Jackie Robinson, the first black man to play Major League baseball, faced venom nearly everywhere he traveled. with fastballs at his head, brutal remarks from the opposing dugouts and from the crowds. During one game in Boston, the taunts and racial slurs seemed to reach a peak. In the midst of this, another Dodger, a Southern white named Pee Wee Reese, called timeout. He walked from his position at shortstop toward Robinson at second base, put his arm around Robinson's shoulder, and stood there with him for what seemed like a long time. The gesture spoke more eloquently than the words: This man is my friend.
Are you comforting to be around? Are you someone's friend? Is there someone who can sing to you the words written and sung by Carole King?
When you're down and troubled and you need a helping hand

And nothing, nothing is going right.

Close your eyes and think of me, and soon I will be there

To brighten up even your darkest night.

If the sky above you should turn dark and full of clouds,

And that old north wind should begin to blow.

Keep your head together and call my name out loud.

Soon I'll be knocking upon your door.

You just call out my name, and you know wherever I am

I'll come running to see you again.

Winter, spring summer or fall, all you've got to do is call

And I'll be there; you've got a friend.
A WORD
If you ever go to Boston you have to go to Bull and Finch Pub.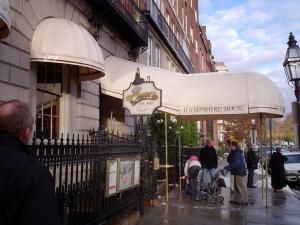 It's on Beacon Hill but you'll recognize the exterior as the inspiration for the TV sitcom Cheers. Sam and Diane and Carla and Woody and Norm and Frasier.
Here were people in a secular setting, with their own particular struggles and anxieties. But in their own crazy way, they did not neglect meeting together to cheer each other up.
Someone has said that the problem with climbing up the ladder is that someone is below you trying to grab your ankle. We don't cheer each other on. Instead of saying, "you did a great job", we look for things to correct. The mood of cynicism and criticism is epidemic. And it has even invaded the church, believe it or not!
Mark Twain said he could go a long way on a good compliment. Abraham Lincoln carried with him a newspaper clipping stating he was a great leader. The Duke of Wellington, who defeated Napoleon at Waterloo, was not an easy man to serve under. He was brilliant, demanding, and not one to shower his subordinates with compliments. Yet even Wellington realized that his methods left something to be desired. In his old age a young lady asked him what, if anything, he would do differently if he had his life to live over again. Wellington thought for a moment, then replied. "I'd give more praise," he said.
Someone said once,
"Flatter me, and I may not believe you. Criticize me, and I may not like you. Ignore me, and I may not forgive you. Encourage me, and I will not forget you."
May we all be unforgettable.
=======================

Bio: Bob Ripley, aka "Dave the Atheist ex-pastor" was a syndicated religion columnist, broadcaster, former preacher and author of Christian devotional material. His book which came out in October, 2014 is titled Life Beyond Belief: A Preacher's Deconversion. Find out more about the book and his other writing here.
>>>Photo Credits: By ABC Photo – eBay, Public Domain, https://commons.wikimedia.org/w/index.php?curid=20403474
By BiblioArchives / LibraryArchives – https://www.flickr.com/photos/28853433@N02/19086236948/, Public Domain, https://commons.wikimedia.org/w/index.php?curid=41991931; By LionOfJudah 80 at English Wikipedia Later version was uploaded by Tomtheman5 at en.wikipedia. – Transferred from en.wikipedia to Commons. Public Domain, https://commons.wikimedia.org/w/index.php?curid=3983660; By Photo by Bob Sandberg Look photographer Public Domain, https://commons.wikimedia.org/w/index.php?curid=1191159