Editor's Note:  I recall clergy in the interviews I conducted ten years ago now, saying how tough it could be coming up with new, interesting ways to "raise Jesus out of the tomb" every Easter.  I felt sorry for them and am glad to see so many Christian clergy since then have left the church and the yearly fantasy of bodily resurrection.  Still, I bet some of them continue to enjoy Easter music as much as I do. That's why I'm repeating this "Holy Thursday" post from 2017. I love reviving memories of the music mentioned , as well as the great joy that we former Christians took in sharing our favorite music of the season.  Please click on this link to check out those original comments and revisit some beautiful musical memories. /Linda LaScola, Editor
===================================
By Linda LaScola
Atheists can celebrate Easter too.
It could be a few days of school vacation,  a chocolate bunny or some colored eggs.  I celebrate by attending the beautiful Good Friday service at the National Cathedral, where I watch the afternoon sun moving across the stain glass windows while listening to the best church music performed by the best musicians, especially the incredibly beautiful and wrenching Miserere by Gregorio Allegri.
As the story goes, the music was considered too beautiful to be sung anywhere but inside the Vatican.  That changed when Mozart attended a Vatican Good Friday service and later transcribed the music based simply on his memory of it.  Here it is for everyone to enjoy.  Listen for those extra, unexpected high notes.
The boy soprano, Aksel Rykkvin, is incredible. Watch his expression when he goes for the high C!
If, like me, you love hearing this kind of music in the "proper" environment of a Cathedral, check out this link to another version, performed by the King's College Choir in Cambridge.
My favorite Easter hymn is not one you're likely to hear in church. It's titled "Regina Coeli Laetare" (aka "The Easter Hymn") and is an aria from the opera
Cavalleria Rusticana
by Pietro Mascagni. It's presented beautifully in this clip from the 1982 movie that Franco Zeffirelli made of the opera.
It has special meaning for me because the movie is set in a small Sicilian village that looks like the one my grandparents are from. I can just imagine them singing in an Easter morning procession with the whole village turning out.
**Editor's Question** What's the story behind your favorite Easter music or way to celebrate the glorious springtime?
===========================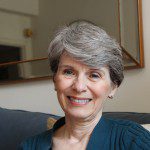 Bio:  Linda LaScola is co-author, with Daniel C. Dennett, of Caught in the Pulpit: Leaving Belief Behind (2013) and "Preachers who are not Believers" (2010). They are also co-producers of a play in development, written by Marin Gazzaniga, that is based on their research.  Linda lives and works in Washington, D.C and holds a Master's Degree in Social Work from the Catholic University of America.  She is a co-founder of The Clergy Project and Editor of the Rational Doubt blog.
>>>Photo Credits: https://www.youtube.com/watch?v=HmUw-zyklYQ; https://www.youtube.com/watch?v=2EGbMm5UqJs ; by Adele Banks, Religion news service