Editor's Note: The "real" Jesus and Mohammed are alive and well in the minds of their believers. However, their popular cartoon characters are having some difficulties these days. /Linda LaScola, Editor
============================
By Bob Ripley
You've heard of Jesus and Mohammad.  But to see them depicted together, sitting at a bar, may seem farfetched.
Nevertheless, Jesus and Mo is a satirical comic strip depicting these two religious icons.  Jesus is, of course, the author of Christianity.   Mo claims to be the body double of Mohammad, a sly comment on the Islamic prohibition of any depiction of the prophet.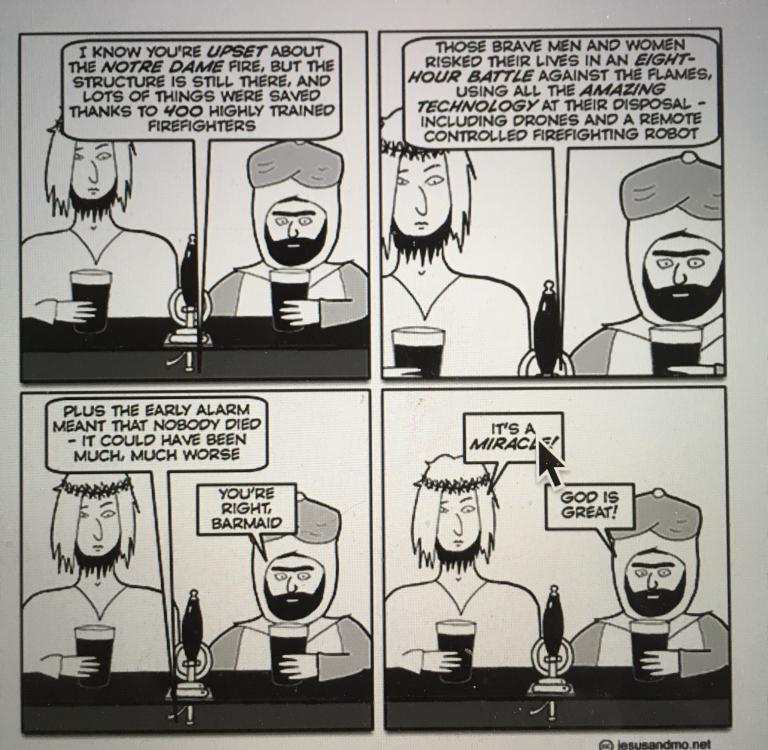 Jesus and Mo share an apartmentand occasionally venture outside to a park bench or a pub where they quaff a Guinness and chat with the atheist bartender known simply as Barmaid.   Though never depicted, Barmaid probes the claims of the Abrahamic religions or religion in general.
Moses makes the odd cameo appearance, along with the Hindu god Ganesh.  Joseph Smith, the founder of Mormonism, once appeared although his face was hidden by a hat in reference to Smith's claim to read seer stones by putting them inside a stovepipe hat and sticking his face inside.
Since the days when I was a fervent believer and minister, I've been a fan of religious satire.  I still treasure my worn copies of a periodical called The Wittenburg Door.  First published in 1971, its role model was Martin Luther who nailed his 95 Theses to the door of the Castle Church in 1517.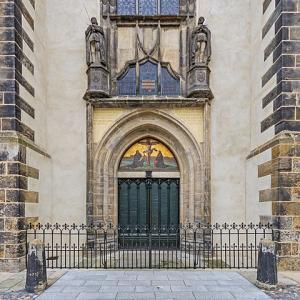 Today if anyone posted something on a church door, the likely result would be a misdemeanor charge of defacing a door.  But for the activist founders who came out of the Jesus Movement of the early 1970s, this was the kind of thing they intended to do: paint graffiti on pretty doors with calls to abandon stuffy moralistic legalisms. I loved the magazine for its irreverence and insight.
Now as an atheist, the same goes for the cartoonish Jesus and Mo.  They are arrows in the quiver used by former believers to critique a faith once embraced and to challenge obnoxious religious assertions.  Jesus and Mo have their place and they definitely have their right to speak.
I'm telling you this because two members of Atheist Secularist and Humanist Society (ASH) at the London School of Economics were told to cover up their anodyne T-shirts depicting Jesus and Mo at the LSE Students' Union Fresher's Fair, which is part of the fall orientation week.   The Students' Union said it had received complaints from other students. The SU asked the two students to cover the T-shirts in the interests of good campus relations.
They were eventually confronted by a representative of LSE's Soviet-sounding Legal and Compliance team, and its head of security, and told that the T-shirts were creating an "offensive atmosphere" and could constitute "harassment" and that they were not behaving in an "orderly or responsible manner".
The two students complied but, in a subsequent written statement, denied "in the strongest possible terms" that they were trying to harass other students.  The incident smacks of political correctness run amok.
Let's be clear.  Jesus and Mo is a satire of religion.  It is not a pointed attack on Muslims or Christians.  There is a difference between targeting individuals and targeting ideas.
We all get offended.  I'm offended my men who don't take off their caps in a restaurant but that doesn't give me the right to demand they remove them.  Being offended is the price you pay for living in an open and free society.
When an educational institution bans a shirt, which offends the religious sensitivities of some students, it is not a victory for progressive liberalism but for dogmatic oppression.
When religion is off-limits for debate, we are all in trouble.
==================

Bio: Bob Ripley,an avid, competitive runner,is a retiredUnited Church of Canada minister and a member of The Clergy Project.He was a syndicated religion columnist and broadcaster, and author of Christian devotional material.  His book, which came out in October 2014 is titled Life Beyond Belief: A Preacher's Deconversion. Find out more about the book and his other writing here.
>>>>>>Photo Credits: http://www.jesusandmo.net ; By A.Savin (Wikimedia Commons · WikiPhotoSpace) – Own work, FAL, https://commons.wikimedia.org/w/index.php?curid=54520833