Editor's Note:  There's no denying it:  the numbers of non-believing clergy, lay atheists and other people who no longer practice religion continue to grow.  Even some people who practice or preach religion don't believe in the accepted tenets of their faith.  Whatever it is that keeps people observant, it's less and less the beliefs they learn as children./Linda LaScola, Editor
============================
By Bob Ripley
The 'Rise of the Nones' is not the latest science fiction tale of alien invasion.  It's a growing group known to demographers and sociologists as the Nones because when asked to identify their religion for a survey or census, they check off the box for 'None'.
While the numbers have been trending upward for years, the graph released earlier this year caught even this skeptic by surprise.  Data suggests that the rising percentage of Americans Nones is now roughly the same as those who identify as evangelical or Catholic.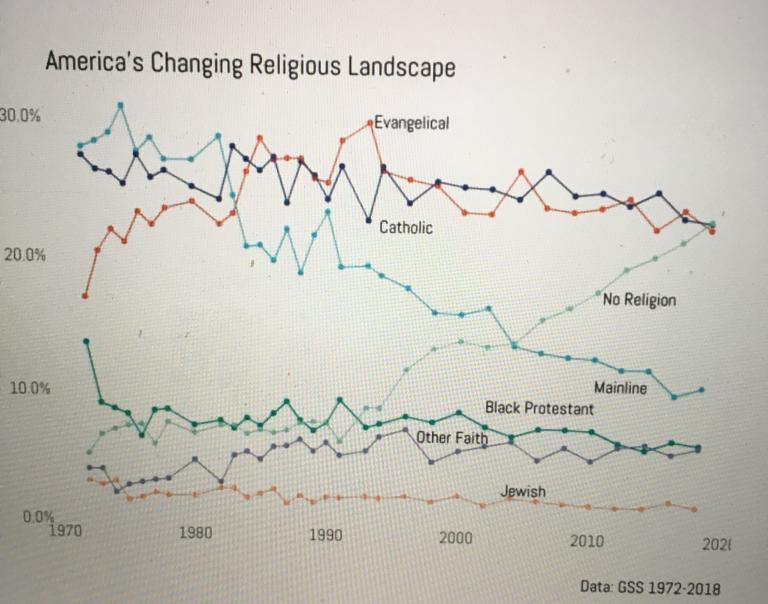 Even without the data, religious leaders have noticed a thinning of their flocks.  It's not just the well-known contingent of worshippers who only show up to church or synagogue during Easter and Passover.  A growing number, especially young people, are eschewing traditional religious affiliations altogether.
What do we know about the Nones?  All they have told us is that they have no religious affiliation.   They are a diverse mix including but not limited to atheists.   There are agnostics, of course, and those who would consider themselves decidedly spiritual but not seeking an organized religion.   There are onetime Catholics, lapsed Anglicans, secular Muslims and non-observant Jews.  You name it.  Today's young adults are more unhinged from traditional authorities and institutions than any prior generation of 20-year-olds.  Many of them didn't grow up with religion and have not embraced it as adults.  No guilt, no shame, no fear of eternal damnation.
Nones tend to be more liberal on social issues including a significantly higher percentage who are pro-choice and favor marriage equality.  Their views of churches and other religious organizations are mixed.  But most also say that religious organizations are too concerned with money and power, too obsessed with rules and too involved in politics.  The unaffiliated also are more skeptical than others of the idea that houses of worship contribute to solving important social problems, and the notion that religious organizations protect and strengthen morality in society.
As their numbers grow, will the Nones assume positions of political power?  Are we seeing the end of religion as we know it?
Hardly.  Churches are closing but religion is not dead.
Some church leaders are painfully aware of the declining role of religion.
Precious few have called for a radical recalibration so that institutional religion can reach out to non-believers.  For example, Pastor James Emery White of Mecklenburg Community Church in Charlotte, North Carolina has tried with The Rise of the Nones: Understanding and Reaching the Religiously Unaffiliated.
I say "precious few" because when my book Life Beyond Belief, which methodically documented why I could no longer believe was published, no clergy contacted me, their former colleague in ministry, to understand how such a change was possible.
Despite their diversity, the Nones have either decided that there is no god and/or would simply rather sleep in or go for a run on Sunday morning.
Tough crowd for conversion.  And growing.
========================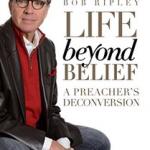 Bio: Bob Ripley,an avid, competitive runner,is a retiredUnited Church of Canada minister.He was a syndicated religion columnist and broadcaster, and author of Christian devotional material.  His book, which came out in October, 2014 is titled Life Beyond Belief: A Preacher's Deconversion. Find out more about the book and his other writing here.
>>>photo credits: https://prophecyinthenews.com/world_news/americas-changing-religious-landscape-its-not-good/