Editor's Note: The author asks a good question of former clergy and asks another good question at the end of this essay. With a little tweaking, it could apply to anyone who ever left religion. /Linda LaScola, Editor
=====================================
By Bob Ripley
When someone writes about you instead of talking to you, you may miss what they write.
That happened when I did a recent Internet search for my book Life Beyond Belief: A Preacher's Decoversion to grab the link to Amazon for someone who wanted to know where to get a copy.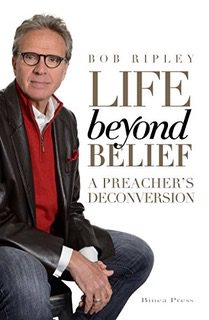 Among the Google hits, was a link to a blog post written shortly after the book's publication, almost five years ago, by someone who lived in my city.  He said he knew me.  Why he didn't talk to me isn't clear.
The writer's website is https://preparedtoanswer.org.  He is a self-described "former pastor and trained Christian apologist", which I assume means that he has answers for critics of Christianity.
Here are two of his ten propositions to rebut my book.  Since science cannot prove that God does not exist, then my 'belief' that God does not exist is not based on reason but on faith.  Ripley has…
"simply exchanged one set of religious presuppositions for another".
Another assertion is that I'm operating with a false (unbiblical) sense of both God and man.  When, in my book, I point out the distasteful character of the God of the bible, his answer is that God is perfectly holy and so he's not operating from ego but truth, so God is to be worshipped.  As for my false sense of man, when I point out the problems with God's justice, I'm forgetting that we are sinners who need to be saved.
You've likely heard these and other "answers" from believers.
But it was the writer's last line that got me thinking.
 "By God's grace my prayer is that Ripley will, perhaps for the first time, find his way home."
Earlier he admitted that he had heard me speak to his colleagues and, at one time, counted me a real brother in ministry.  Now his prayer was that I may come home, perhaps for the first time.   Was I not home before?  Was I not a true Christian back then?  Many of us have had our solid Christian credentials questioned in the light of leaving Christianity.
But what about the idea of coming back home?  What would it take for me to change my mind a second time and return to the fold?  Is there anything at all that could bring those of us who used to believe, to believe again?
If an all-powerful deity said "hello" to humanity in such a way that every human everywhere would know it.  That would do it.  Of course, then we wouldn't be believing any more.  We'd know.
But is there some argument from an apologist, trained or otherwise, that might sway me to once again bow before an invisible god?
The short answer is 'no'.  I'll explain with an analogy.
On a recent holiday, I met a guy who loved to do card tricks.  He was good.  One day, he fudged the code of magicians and showed me how he did a couple of his tricks.   Where I had just been awed by his hocus-pocus and now saw how he managed to create an illusion, there was no way I could go back to believing he had special powers.
It may not be the best analogy but it's one what seems most apt these days.  Once you see how we got here and how religion got here, it is inconceivable, short of that spectacular worldwide greeting from the creator of the universe, that I could see myself back in the pulpit.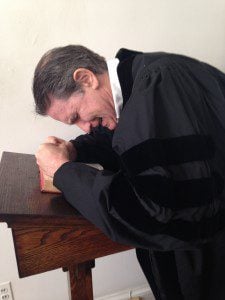 What about you?  Do former clergy ever return to the pulpit? 
======================

Bio:  Bob Ripley was a syndicated religion columnist, broadcaster, former preacher and author of Christian devotional material.  His book, which came out in October 2014, is titled Life Beyond Belief: A Preacher's Deconversion. Find out more about the book and his other writing here.